A very tasty dish with General Tso sauce, stir-fried cucumber with shiitake, oven steamed rice and Chinese pickles.
Preparation
Preparation Chinese pickles
Heat the sugar and vinegar in a saucepan over medium heat. Remove the pan from the heat as soon as the sugar has dissolved.
Place the sliced vegetables in a jar. Pour the vinegar mixture over the vegetables making sure they are covered.
After an hour, the vegetables are ready to eat. They are even better when refrigerated overnight.
Preparation sauce
Mix all the sauce ingredients in a saucepan. Whisk in the cornflour.
Bring to the boil over medium heat then simmer for 5 minutes on low heat.
Preparation rice
Preheat the oven to 170 degrees.
Wash the rice in warm water to rinse off the starch. Drain the rice and scoop the rice into an oven dish. Pour the water over the rice and mix in the salt.
Cover the dish and place it in the oven. The rice is ready once all the water has been absorbed - after 25 minutes or so.
Stir the rice with a fork and serve.
Preparation stir-fried cucumber
Slice the shi-take mushrooms thinly. Wash and dry the cucumber. Cut the cucumber into quarters. Cut the quarters into 1 cm diagonal slices.
Put the wok on high heat. When the wok begins to smoke, pour in 1 tbsp of the sunflower oil. Then add the chopped garlic, ginger, and chilli flakes. Stir briefly and then add the chicken mince. Fry the chicken until golden brown - about 5 minutes. Stir with a spatula to loosen the mince. Scoop the wok mixture into a serving bowl and keep warm under aluminium foil.
Return the wok to the heat and pour the remaining tbsp of sunflower oil into it.
Fry the shi-take mushroom over high heat. Add the cucumber and sear well. Toss after two minutes. When the cucumbers are well seared, add 4 tbsp of the General Tso sauce. Spoon the cucumber mixture over the minced chicken and serve with the rice and Chinese pickles.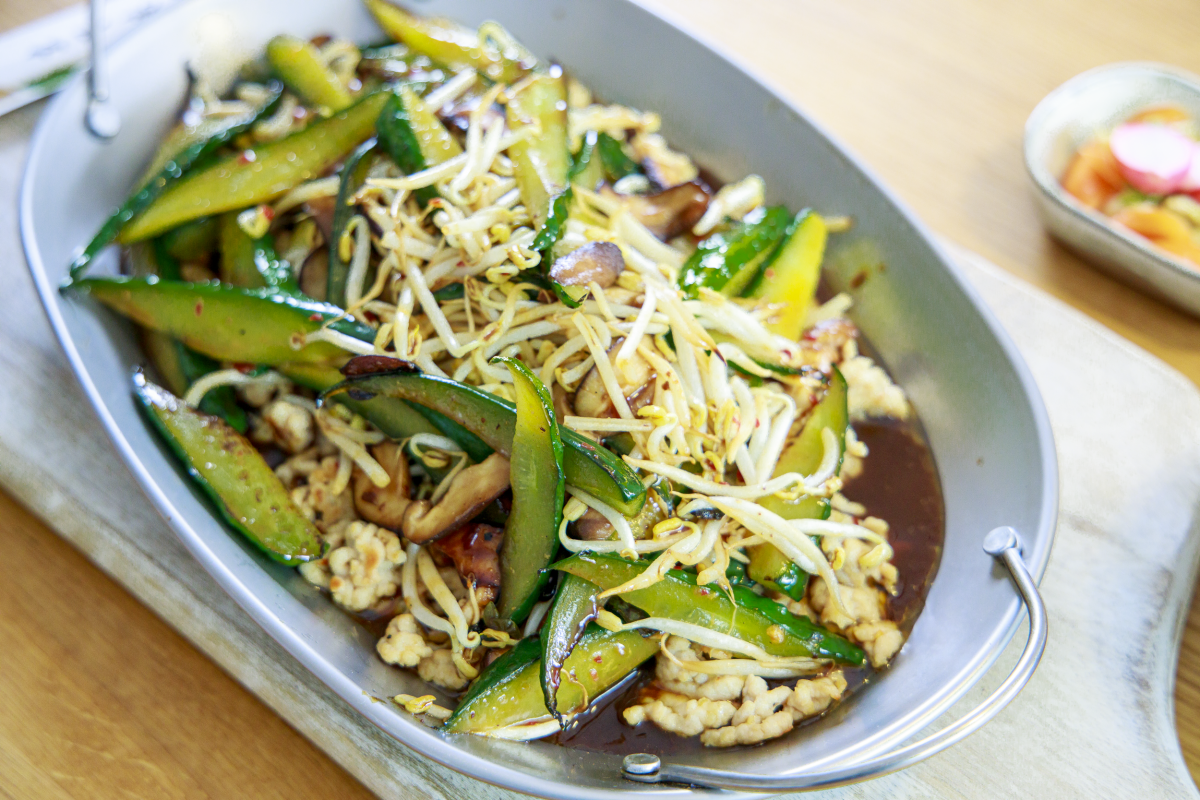 Related salads chosen by others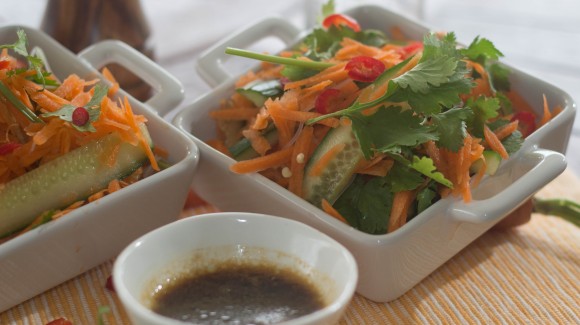 Spicy noodle salad with carrot, cucumber and coriander
Average 3 of 5 stars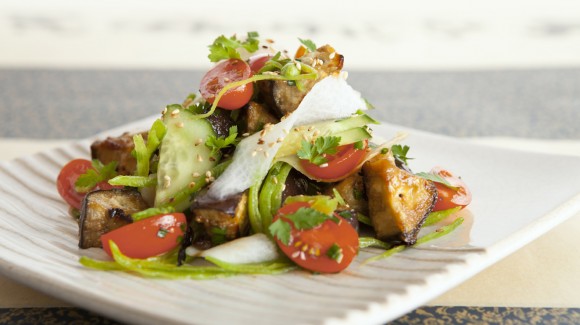 Japanese style miso roasted eggplant salad with ponzu dressing
Average 3 of 5 stars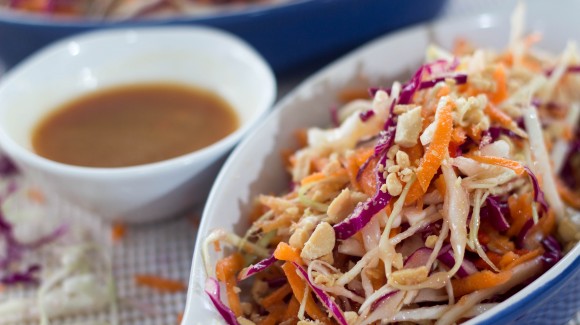 Coleslaw with carrot ginger and spicy soy dressing
Average 3 of 5 stars