This cucumber salad recipe is made with stir fry cucumber. We are a big fan of stir fry cucumber! Hopefully you will be a fan as well after making this Asian cucumber salad ;-)
Preparation
Cook the rice according to the instructions on the package and keep it warm.
Cut the tempeh into strips. In a bowl, stir the apple butter with the soy sauce and the water until smooth. Season with a little salt and freshly ground pepper. Add the tempeh and let it marinate for about 10 minutes. Do not throw away the marinade, you will still need it for the dressing.
Wash and cut the Wokcue in half lengthwise and cut each half of the cucumber into angled half slices.
In a frying pan over medium heat, fry the tempeh with 2 tablespoons of oil until crispy for a few minutes. Turn over frequently to avoid burning. Set aside until use.
Heat 4 tablespoons of oil in a wok and fry the garlic and red pepper for about 2 minutes. Add the grated ginger, Wokcue, red cabbage and pointed cabbage and fry for about 2 minutes. Add the spring onion and edamame beans and fry for about 2 minutes.
Make a dressing from the olive oil, marinade, sesame oil, fish sauce and soy sauce. Place the stir-fried vegetables on a plate. Pour over the dressing and place the strips of fried tempeh on top.
Garnish the salad with cilantro and black sesame. Serve with rice.
Related salads chosen by others
General Tso cucumber and oven steamed rice
Average 3 of 5 stars
Kohlrabi Carpaccio with Thai dressing and peanuts
Average 3 of 5 stars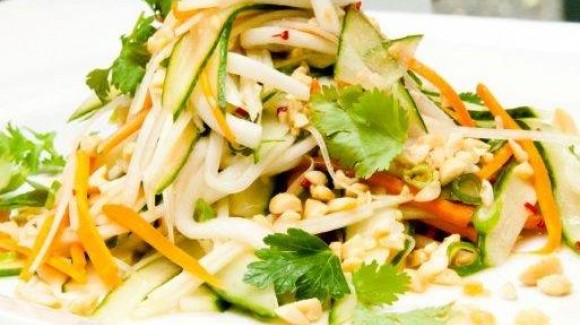 An aromatic South-East Asian raw vegetable and papaya salad
Average 3 of 5 stars