Mix in a bowl half the Italian seasoning with the sunflower oil. Cut the cocktail tomatoes into tiny cubes and mix these with the seasoned oil. Halve the avocado and scoop out the flesh then cut into tiny cubes. Stir these into the wine vinegar and mix with the tomatoes. Serve your tomato salsa with the Tortilla (corn chips).
Preparation
Tips from the author
Variation:
Add finely chopped fresh coriander.
Make the dip sauce extra spicy by adding a few drops of (green) Tabasco.
Related salads chosen by others
Authentic Greek Tzatziki
Average 4 of 5 stars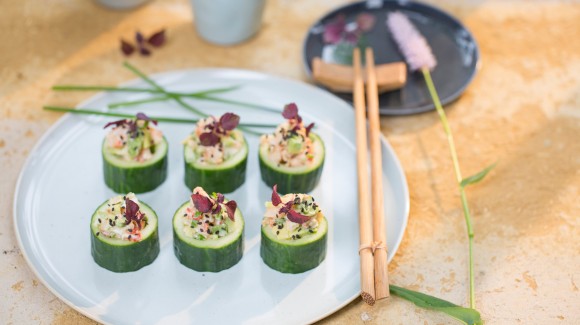 Cucumber sushi with shrimps and avocado
Average 3 of 5 stars
Hummus, a middle-eastern classic
Average 3 of 5 stars