Hummus dip is great for any party or if you want to sit down to watch a nice movie munching on something delicious.
Preparation
Drain the soaked chickpeas and put them into a pan with plenty of fresh water. Bring to boil, remove the scum and simmer for 1 ½ hours, until they are very soft. Meanwhile cut up the vegetables.
Drain the chickpeas, reserving the cooking water. If you are using chickpeas from a can, follow the recipe from here. Blend the chickpeas to a smooth puree in the food processor or with the hand blender. Add some of the cooking water or liquid from the can (or water), lemon juice, tahini, 2 tablespoons of olive oil and the crushed garlic. Blend well and taste. There is no strict recipe for hummus, you can prepare it in the way you like it best. More or less garlic, a bit of extra freshness by adding more lemon juice or extra creamy by adding another spoon of tahini. Season with sea salt.
Spoon the hummus into a small, shallow bowl, drizzle with olive oil and sprinkle with paprika powder, parsley and roasted pine nuts.
Put the bowl on a large platter and arrange the vegetables around the bowl of hummus.
Perfect with triangles of warm pita bread.
Related salads chosen by others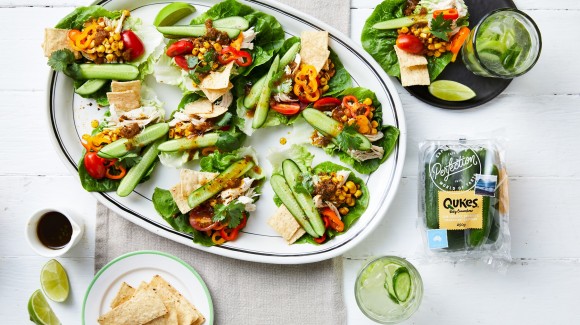 Qukes® baby cucumbers nachos lettuce cup platter
Average 3 of 5 stars
Red onion, pepper and chilli chutney
Average 3 of 5 stars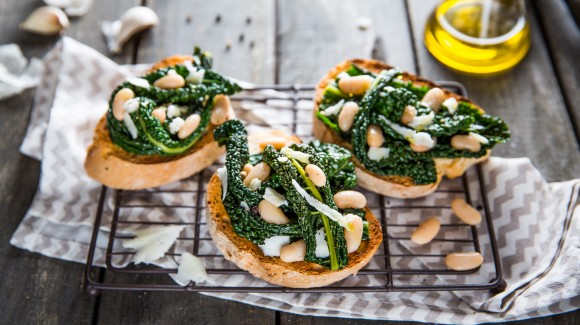 Crostini with kale and white beans
Average 3 of 5 stars