These tofu lettuce wraps are packed with vegetables and fun to make. The butter lettuce leads to a perfect base of a wrap: slightly crispy, but easy to roll. The mix of cabbage, carrot, cucumber and tofu makes up a very tasty and crunchy fill up. Dip it in the spicy sauce and you're ready to go! Tip: If you want to make it vegan, leave out the fish sauce in the dip.
Preparation
Place a few sheets of kitchen paper on a cutting board and place the tofu block on top. Place another couple of kitchen paper sheets over it and top with a second cutting board. Place something heavy, such as a cast iron pan, on this cutting board. Leave the tofu like this for at least an hour. The tofu becomes more compact, loses some moisture, so it fries up crispier.
Cut the red cabbage into thin strips. Do the same with the cucumber and carrot.
Slice or crush the garlic cloves and finely chop the red pepper. Mix the garlic, red pepper, fish sauce, soy sauce, rice vinegar and sugar in a small bowl to make the sauce.
After (more than) an hour, slice the tofu and then quarter those slices. Mix the tofu strips in a bowl with salt, pepper, and cornstarch. Make sure all the strips are covered with cornstarch.
Heat oil in a frying pan and fry the tofu strips until crispy and brown.
Mix half of the sauce with the vegetable strips in a bowl.
Place 2 lettuce leaves on top of each other, top with a scoop of vegetables and some tofu strips. Fold the leaves around the filling and use some cooking twine to hold the leaves together.
There you go, your tofu lettuce wraps and the spicy dipping sauce are ready to be served.
Related salads chosen by others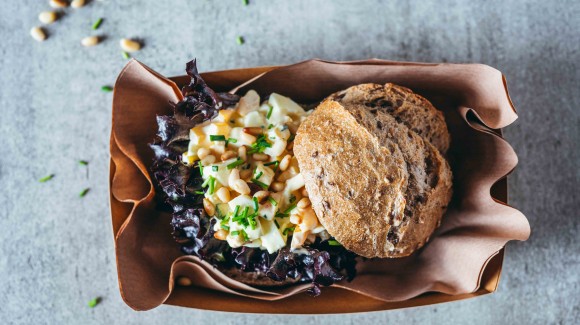 Egg salad sandwich with Lollo Rossa
Average 5 of 5 stars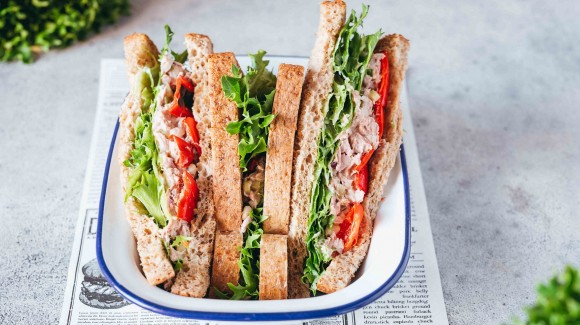 Tuna salad sandwich with grilled peppers
Average 3 of 5 stars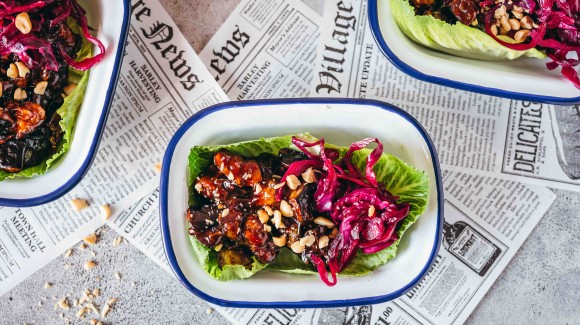 Sticky aubergine lettuce wraps
Average 3 of 5 stars