We can always find room for these delicious rice paper rolls packed full of crispy vegetables, served with a scrumptious peanut sauce. So simple and yet so yummy! These rice paper rolls are ideal for taking to work or school, with the dip in a separate tub. You can tuck into them wherever you are – so eating veggies on the go has never been easier!
We've filled these rice rolls with our delicious crunchy cucumbers, sweet peppers, carrots and mango. Tangy mint finishes them off perfectly. Obviously, you can create your own combinations, perhaps by adding cold noodles or rice, avocado or omelette strips. Red cabbage, lettuce and other vegetables are also delicious in these rice rolls. Once you've mastered this concept, you'll never want anything else for lunch!
Preparation
Crush or finely chop the clove of garlic. Put into a bowl with both types of soy sauce, the peanut butter, milk and lemon juice and mix to make the dip.

Slice the mini cucumbers into thin strips. Do the same with the sweet pepper, mango and carrot. Finely chop the mint.
Soak the first sheet of rice paper in lukewarm water until soft. Lay it flat on your worktop. Place some strips of cucumber, sweet pepper, mango, carrot and some mint in the centre of the circle. Fold the left side of the rice paper over the vegetables, then the right, and roll it up from the bottom. Place the rice roll on a plate. Do the same with the rest of the rice paper sheets.
Serve the rice rolls packed full of vegetables with extra mint, peanuts and roughly chopped chili pepper. Serve the peanut butter dip on the side.
Related salads chosen by others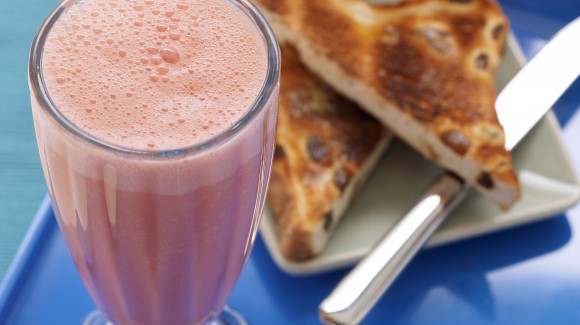 Melon and watermelon smoothie
Average 3 of 5 stars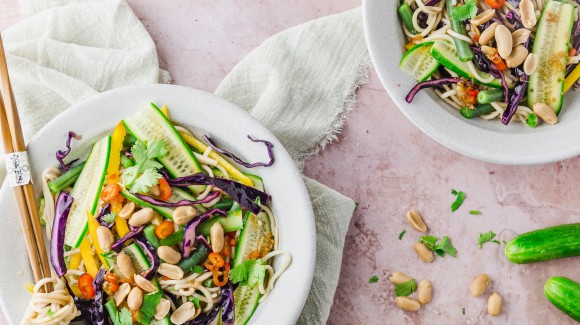 Oriental salad with baby cucumbers and a spicy dressing
Average 3 of 5 stars
Romesco sauce
Average 3 of 5 stars