Preparation
Combine the rice and 2 cups of water in a saucepan over medium-high heat and bring to the boil. Reduce heat to low and cover. Simmer for 10 minutes or until liquid is absorbed. Remove from the heat and set aside for 10 minutes. Stir the rice with a fork and stir in 1 tablespoon mirin.
Combine remaining mirin with teriyaki, soy, sugar and sesame oil. Stir until sugar dissolves. Cut the Qukes® in half lengthways and turn cut side down onto the board. Use a wide blade knife to smash the Qukes® into rough pieces.
Heat oil in a frying pan over high heat. Add mince and cook, stirring to break up the mince for 5 minutes until browned. Add 3 tablespoons of the teriyaki mixture and simmer for 5 minutes until thickened. Stir in shallots and season with pepper.
Spoon the sushi riceover the base of 4 serving bowls. Add Qukes® Kumato®, beef, avocado and edamame. Spoon over the remaining teriyaki dressing. Top with radish, ginger and sesame seeds. Serve with seaweed chips.
Tips from the author
Tip: you can replace the beef with 600g fresh salmon. Brush the salmon with 2 tbs teriyaki mixture then pan fry for 2 minutes each side for medium-rare. Stand for 5 minutes then slice.
Tip: Seaweed chips can be found in the gourmet isle of the supermarket.
Related salads chosen by others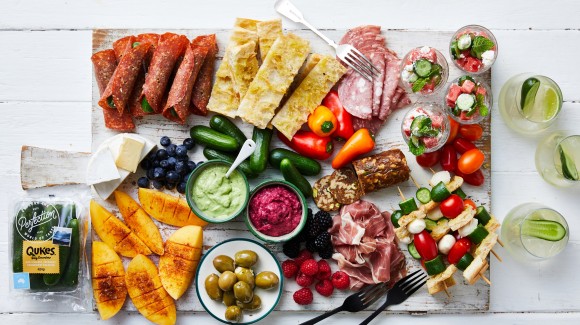 Qukes® baby cucumbers summer snacking platter
Average 3 of 5 stars
Crudité platter for the whole family
Average 3 of 5 stars
Cherry tomato and watermelon tapas (cocktails)
Average 3 of 5 stars