Eggplant is known for many appealing qualities. A natural smoky flavour, the way it melts into creamy-soft flesh when cooked, and its meaty texture that makes almost any salad or dish more fulfilling. In this recipe, slices of eggplant are used a base for some extra indulgent toppings.
Baking eggplant is a nice, hassle-free method of cooking. Simply coat each side lightly with olive oil and place in the oven. You will know the eggplant is cooked when the flesh becomes soft and gooey with golden-brown sides.
Make this today and be tempted by the combination of creamy mozzarella, salty pistachios and smoky eggplant. A simple tomato sauce is added to tie all the ingredients together and deliver a balanced richness to the dish.
Preparation
Preheat the oven to 180ºC
Brush eggplant slices lightly with olive oil, and place on a baking sheet. Score the eggplant flesh with a knife to allow it to breathePlace in the oven for 25 minutes.
Meanwhile, prepare your tomato sauce by heating the canned tomatoes in a saucepan over medium heat. Add in the crushed garlic and oregano and break up the tomatoes with the edge of a wooden spoon.
Reduce heat and allow to simmer for 15-20 minutes.
Cut the mozzarella into slices.
Remove eggplant from oven and top with a layer of tomato sauce, slices of mozzarella and a sprinkle of pistachios.
Return eggplant to oven and cook for a final 10 minutes, allowing the mozzarella to melt.
Season to taste and serve with a few leaves of fresh basil.
Related salads chosen by others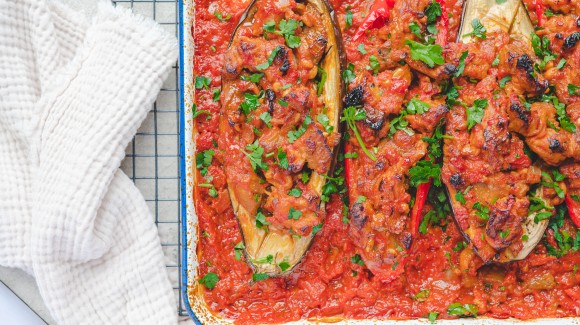 (Oven-baked) stuffed aubergine and pointed pepper
Average 3 of 5 stars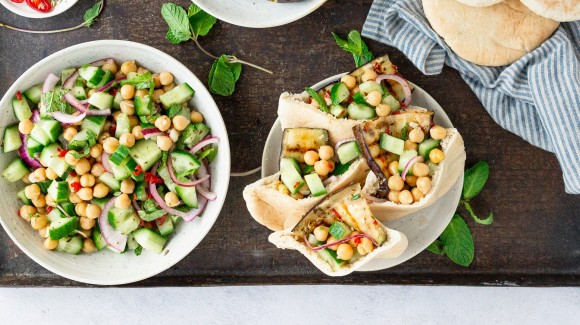 Veggie pitta sandwiches
Average 3 of 5 stars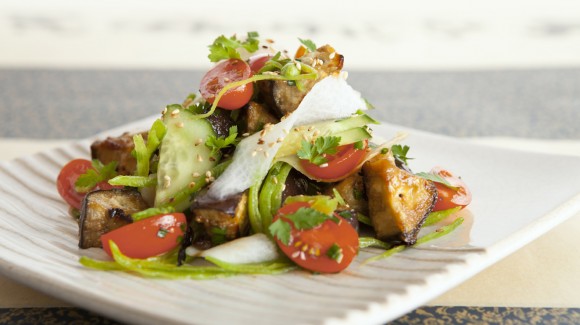 Japanese style miso roasted eggplant salad with ponzu dressing
Average 3 of 5 stars