India - I'm a lover of the country. About seven years ago, I spent three weeks backpacking through Incredible India. It was a journey to remember. For many reasons. The special culture, the sweet and curious people, the nature, the authenticity, and - of course - the food.
Never before on holiday, had I eaten so well and sampled such a variety of delicious dishes. Almost always vegetarian. So many vegetables, spices, creamy coconut sauces, and the tastiest naan bread you can imagine.
I'm sure you won't be surprised to hear I still cook Indian food regularly at home. Or at least dishes inspired by Indian cuisine. Take, for example, this Indian curry packed with vegetables and seasonings. Sweet potato, cauliflower, chickpeas, and spinach in a creamy coconut and tomato sauce. I like to eat it with naan bread. Preferably homemade, but I don't always have time (or desire ;-)). The ones from the supermarket are fine. Or try papadums that you fry yourself in a thin layer of oil.
Preparation
Heat the oil in the wok. When the oil is hot, put the cinnamon sticks and cloves in the pan. Fry for 1-2 minutes until fragrant.
Fry the onion and brown sugar and let it turn golden and caramelize for 8 minutes.
Put the ginger, garlic, garam masala, turmeric, and salt in the pan. Keep stirring so the spices do not fry. After 5 minutes, add the cauliflower and sweet potato. Fry briefly.
Now add the diced tomato, coconut milk, and chickpeas. Bring to the boil and simmer for 15 minutes or until you find the vegetables soft enough.
Add the spinach and warm until it has shrunk. Season with black pepper and possibly some extra salt.
Spoon the Indian curry onto the plates and garnish with coriander.
Tips from the author
Serve the sweet potato curry with naan bread fresh from the oven.
Related salads chosen by others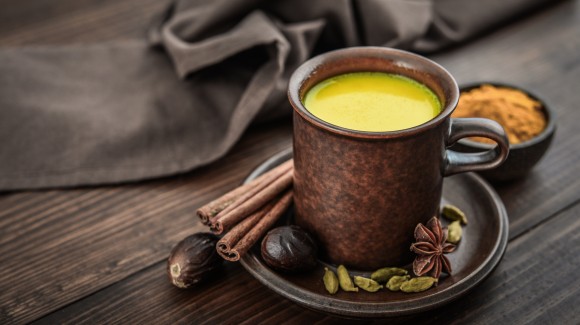 Golden turmeric cinnamon milk
Average 3 of 5 stars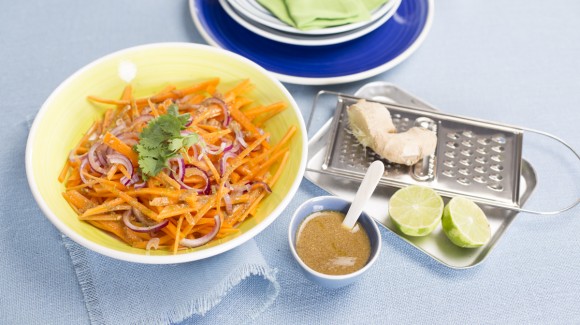 Carrot salad with ginger, coriander and lime
Average 3 of 5 stars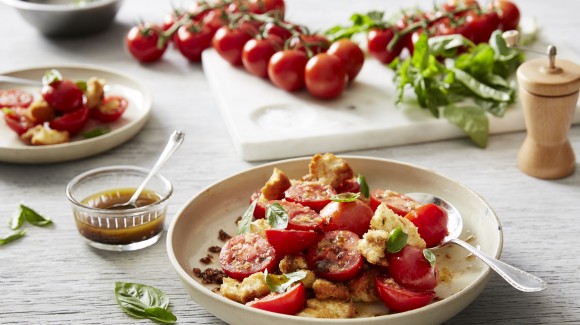 Cocktail Panzanella
Average 3 of 5 stars