Sounds and smells bring back memories, to keep your holiday memories alive you could try to recreate a dish you particularly enjoyed on your holiday. A lot of holiday destinations have fresh fish recipes and local vegetables side dishes to indulge with. Keep the vacation feeling alive with this garlic-crusted fish and a crunchy carrot and radish salad on a bed of fresh salad leaves, ready in 25 minutes. Tilapia, cod fish, whitefish or haddock are good choices for this crusted fish recipe.
Preparation
Wash and peel the carrot and slice it lengthwise as thinly as possible. Wash and chop the radishes.
Mix the juice from half a lemon with the honey and 2 tablespoons of olive oil sprinkle over the carrot and radish. Leave to marinade for a while.
Preheat the oven to 220 °C.
Gently heat a frying pan containing 2 tablespoons of olive oil.
Fry the chopped garlic very briefly and add spice mix, chili flakes and fresh black pepper. Stir continuously.
Add the breadcrumbs and the fresh coriander and continue frying for a few minutes more, stirring regularly until the garlic is soft and the breadcrumbs are slightly crunchy.
Place the fish on a baking tray lined with baking paper.
Spread the coriander mix over the top of each fish fillet so that it is completely covered. Bake the fish in the middle of the oven for about 8 minutes until cooked and the crust is crunchy.
Drizzle the salad leaves with a little olive oil and arrange the carrot mixture on top.
Mix tahini sauce with warm water and lemon juice into a dressing.
Serve the fish on top of the salad with a drizzle of tahini dressing. Garnish with the lemon wedges.
Related salads chosen by others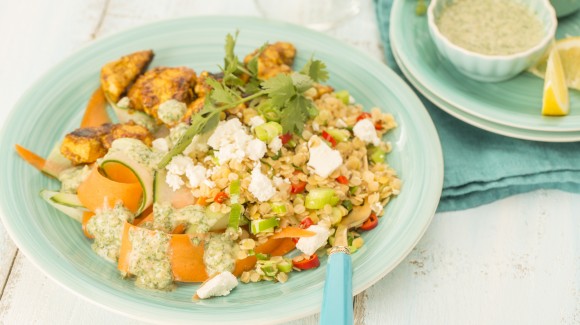 Lentil salad with chicken tikka
Average 3 of 5 stars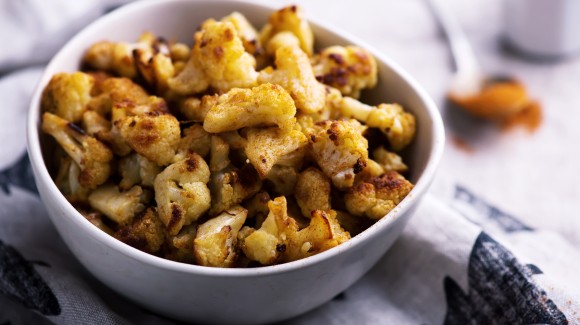 Popcorn cauliflower
Average 3 of 5 stars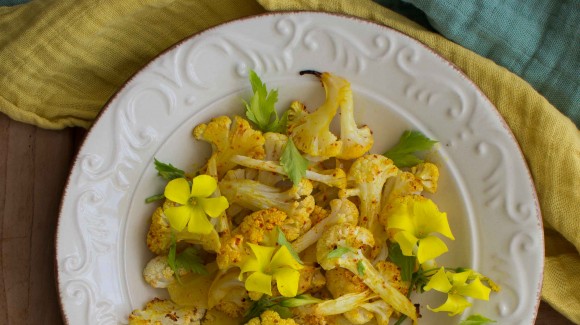 Simple summer cauliflower
Average 3 of 5 stars