Let's be honest: everything deep-fried is delicious, right? The same goes for the sweet pointed pepper. You might not immediately think of it, but deep-fried sweet pointed peppers are delectable. Especially when combined with a homemade tomato jam. The latter is deliciously spicy and mild and goes wonderfully with the crispy deep-fried pepper rings. A delightful appetizer!
Preparation
Chop the onion. Quarter the tomatoes. Pour some oil into a saucepan and fry the onion on low heat until brown. Then add the tomatoes, sugar, balsamic vinegar, basil, anise star, and 50 ml water. Bring to the boil, then lower the heat and simmer for at least 30 minutes, preferably as long as possible. Once you have a jam-like substance, remove the anise star from the jam and allow the mixture to cool.

Make the beer batter by mixing the flour and beer in a bowl with the spices. Season with salt and pepper.

Remove the seeds and stem from the peppers and cut the flesh into rings 2-3 cm thick.

Place the oil in a deep fryer or a thick-bottomed pan. Heat until the oil reaches 180 degrees.

Then, one by one, run the pepper rings through the beer batter and then immediately dip them in the heated oil. Deep-fry for a few minutes until the batter is brown and crispy. Always do a few pepper rings at a time, otherwise the oil will cool down too quickly.

Drain all the deep-fried pepper rings on kitchen paper. Then serve immediately together with the tomato jam and aioli.
Tips from the author
Check also these Romanesco nuggets with BBQ dipping sauce.
Related salads chosen by others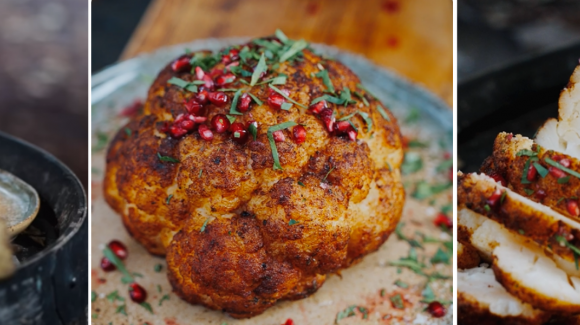 Slow-roasted cauliflower
Average 3 of 5 stars
Kohlrabi 'au vin rouge'
Average 3 of 5 stars
Roasted Brussels sprouts with balsamic, cranberries and pecan nuts
Average 3 of 5 stars