The Romanesco is a wonderful vegetable which you can not only cook as a veggie side dish or you can use to make soups or salads, but which can also be used to cook something completely different and probably unexpected: nuggets! Indeed, this bright green coloured vegetable loves to put on a crunchy jacket fried in oil. That sounds like a little piece of heaven, doesn't it? The best of both worlds… a crispy snack with a veggie touch, that's how we like it!
These Romanesco florets are breaded in panko (bread crumbs) and then fried in oil until golden brown and crunchy. Next, add some homemade BBQ dipping sauce to the crunchy Romanesco nuggets and you have created an appetizer which is designed for delicious entertaining and which might become your new go-to for healthy appetizer choices. They really are! These nuggets brought everyone together in the blink of an eye during my last home party and the feedback was unanimously positive. Just try it yourself and be amazed!
Preparation
It all starts with making the BBQ dipping sauce. Put all the ingredients in a saucepan and stir well. Place the pan over medium-high heat until the sauce starts simmering. Lower the heat and let the BBQ dipping sauce gently simmer for 5 more minutes until you have a nice thick sauce.

Cut the Romanesco into florets. Don't cut them too small and try to cut them more or less the same size.

Beat the eggs in a bowl. Put the cornflour in a second bowl and add the herbs before seasoning with pepper and salt. Pour the panko in a third bowl. Then arrange the bowls in the following order: cornflour, eggs, panko.

Heat a frying pan with 1 cm (0.4 inches) sunflower oil at medium-high heat or turn the deep fryer on to 180 degrees Celsius (356 degrees Fahrenheit).

Now use your own homemade breading line: start by dipping the Romanesco florets one by one through the cornflour until the florets are completely covered. Next, dip them in the eggs until the florets are completely covered with egg. Last but not least, it is panko time. Repeat the same process with the panko until the florets are once again completely covered. Then put the florets in the frying pan (deep fryer) or to get that extra thick nugget: repeat the egg and panko process once more.

Using a deep fryer your nuggets will be ready in a few minutes. Using a frying pan you have to stir the breadcrumbs so each side is fried about 1-2 minutes until golden brown. Then remove the florets from the pan and let them drain on kitchen paper.

Serve the romanesco nuggets with the BBQ dipping sauce.
Related salads chosen by others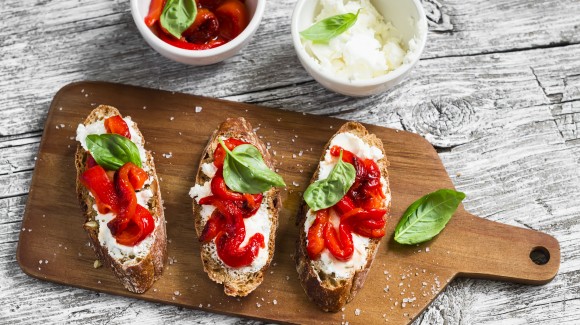 Roasted pepper bruschetta
Average 3 of 5 stars
Crispy kale chips, oven baked
Average 3 of 5 stars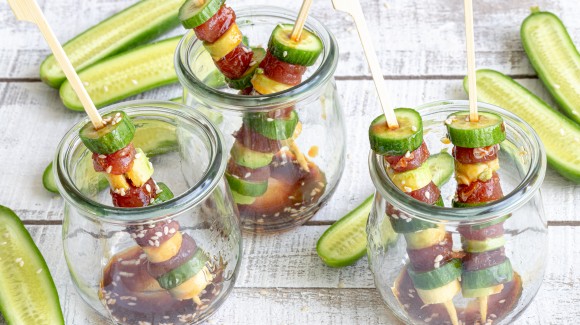 Cucumber tuna kabobs
Average 3 of 5 stars