As a child, peppers featured in many meals at my house. It still does now as I love the flavour and make it often for my own family. I used to eat this dish, known in Arabic as 'Fil Fil Mahshi'. Eating it, or even just the fragrance of the meal takes me back to carefree days where my brother and I would play all day with our friends, and return home as the sun was setting to delicious and nutritious home cooked meals.
As with most traditional dishes, getting specific measurements is tricky as the 'experts' season to taste with "a little bit of this and little bit of that", so my tip is to season lightly, then adjust to suit your own tastes.
Preparation
1. In a pot or a rice cooker, half cook 1 cup of rice
2. Slice the top off the peppers, and keep so you have a 'lid' to use for later and remove the central pith and any seeds from the capsicum, then set aside
3. In a saucepan, add a splash of oil and fry the mince or cubed meat, and/or mushrooms
4. Add finely chopped parsley and mint and simmer
Sauce
1. Sauté 1 chopped onion until translucent, then add 1 clove of chopped garlic and the chopped fresh tomatoes for the sauce. Combine with the tin of chopped tomatoes.
2. Add the half cooked rice to the sauce, then add meat or mushrooms
3. Add melted butter and season with salt and pepper
Assemble
1. In a glass dish (Pyrex dishes work well), add some of the tomato sauce to cover the bottom.
2. Place the 6 peppers on the top. Fill them ¾ way with the sauce - it will expand as the rice continues to cook in the oven, so don't fill to the top, then place the pepper lids on top of each one
3. Mix approximately 1 cup water with stock. Don''t use too much or it will be salty. Traditional recipes sometimes use chicken soup. For vegetarians, vegetable stock also works well.
4. Add stock so it rises to halfway up the capsicums
5. Cook at 180 degrees for approximately 45 minutes (keeping an eye on it), then remove the capsicum lid and cook for another 15 minutes.
Tips from the author
Cooking this dish in a glass dish is both practical and aesthetically pleasing.
For those who eat meat, using chicken soup instead of water provides added flavour.
For those seeking more spice and flavour, you could also add the flavours of saffron, turmeric, mint, cinnamon and/or cardamom to this dish.
Once finished cooking, you could also add cheese and grill to a golden colour
This dish is best served hot and often with a side salad and mint yoghurt.
15 ways to enjoy the sensational flavours of capsicum
Related salads chosen by others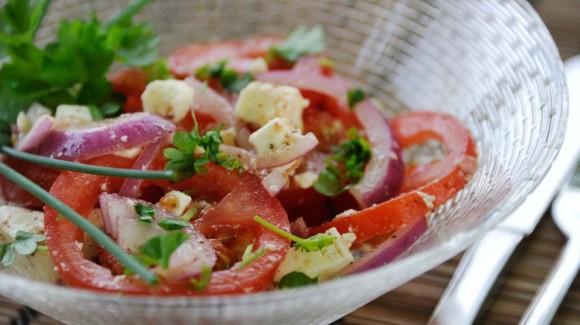 Middle Eastern Tomato salad
Average 3 of 5 stars
Vegan Sunday Roast with Romanesco, purple cauliflower pickles and fried onion gravy
Average 3 of 5 stars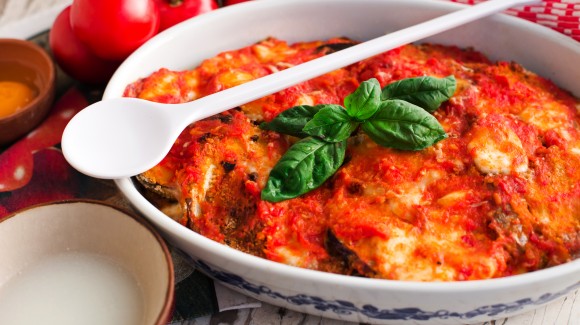 20 minute aubergine parmigiana
Average 3 of 5 stars