This classic French inspired vegetable dish is packed full of fresh flavours to appease many discerning taste buds. This version features tomatoes, aubergines, peppers, courgettes and onions, but the best thing about ratatouille is that you can really use any fresh produce in season.
Ratatouille is great on its own or on toast and grilled with melted cheese. I often make this dish for my kids and they love it. It is also a great way to ensure they are eating enough vegetables. Using only the freshest ingredients is the key to ensuring this meal really shines.
Preparation
Preheat your oven to 180 degrees celcius
In a frying pan, over a medium heat, add a splash of olive oil and cook the onions until translucent.
Add the chopped tomatoes and chopped garlic and simmer for 15 minutes before placing aside
Saute the cpepper in another splash of oil over a medium heat for 3-4 minutes
Combine the cooked ingredients into one pan and add the bouquet garni
Saute the courgettes and add to the tomato mixture
Saute the aubergine in oil, then add to the tomato mixture
Season to taste with salt and pepper. Lower the heat to a simmer, stirring often and cook until it takes on the form of a stew
Before serving. Remove the bouquet garni.
Add the chopped basil and check the seasoning.
Tips from the author
Use your favourite seasonal vegetables. Options including squash, potato and/or pumpkin would also work well.
Bouquet garni is a selection of herbs tied together and is used to season a dish while cooking. It is available in the spice aisle of most supermarkets, but you can also make your own. Gather celery leaves, thyme, a bay leaf and parsley or basil stalks. Wrap within the green part of a leek and tie together with string.
This dish is best served with fresh basil or mint over the top as a garnish, and alongside a salad and crusty bread.
12 ways to enjoy the great taste of tomatoes
Related salads chosen by others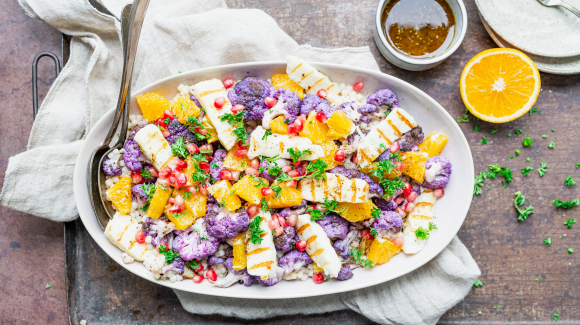 Grilled cauliflower with pearl couscous and a spicy dressing
Average 3 of 5 stars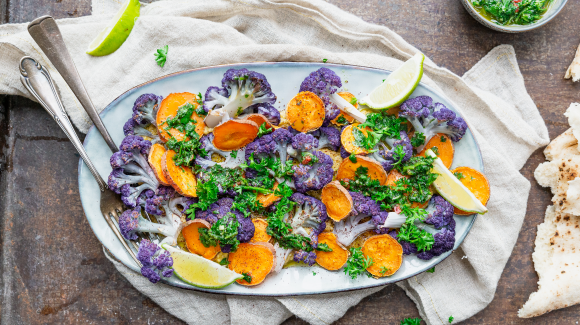 Traybake with cauliflower, sweet potatoes and green herb oil
Average 3 of 5 stars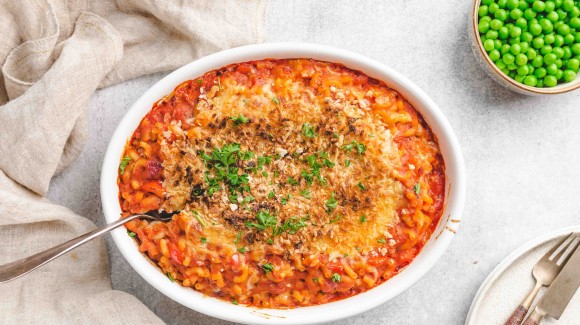 Simple Mac n Cheese with lots of Veggies
Average 3 of 5 stars