The crispy salanova lettuce is the perfect add-on to this dish and will give this Oriental salad an amazing crunch with every bite. Even when you use the leaves in lukewarm or warm dishes you will still experience that crunchy, delicious salad goodness!
This dish forms the perfect combination of lettuce and Oriental style marinated chicken. Add a mushroom mix and heavenly wok noodles to create a vibrant and healthy dish which is right up your alley! The dressing, aka the marinade, is made of fresh ginger, garlic, soy sauce and chili sauce. This irresistible and savory Oriental flavour profile is finished with style by adding some peanuts and coriander.
Preparation
Start by making the marinade and dressing. Grate the ginger and garlic cloves and put them together in a bowl. Then mix them with the soy sauce, sweet chili sauce and lime juice. Pour half of the dressing into another small bowl.

Cut the chicken thigh fillet into pieces and then mix these pieces with the other half of the dressing. Let it marinate for at least 20 minutes.

In the meantime, cut the mushrooms into thick slices. Halve the cherry tomatoes, cut the red onion into thin, half rings and cut the cucumber into half slices. Prepare the wok noodles by following the directions on the package. Remove the red Salanova lettuce from the head, wash the leaves and then pat the lettuce leaves dry.

Heat a wok with oil over high heat and fry the mushrooms for 5-8 minutes. Then add the marinated chicken pieces and fry them for 5-8 minutes until they are cooked through. Season with salt and pepper.

In a large bowl, mix the mushrooms and chicken with the wok noodles, cucumber, tomatoes, half of the Salanova lettuce and all the red onion: Also add the dressing that you have set aside.

Divide the rest of the Salanova lettuce over the plates and top with the Oriental chicken and noodles.

Garnish the plates with peanuts and fresh coriander.
Related salads chosen by others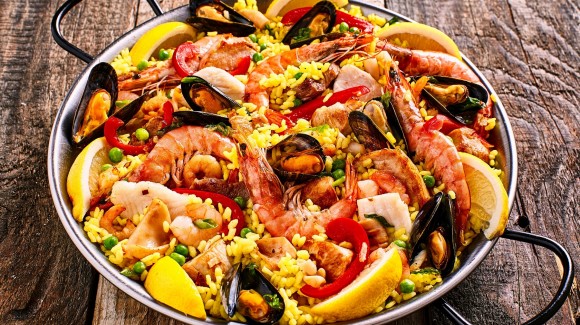 Spanish paella
Average 3 of 5 stars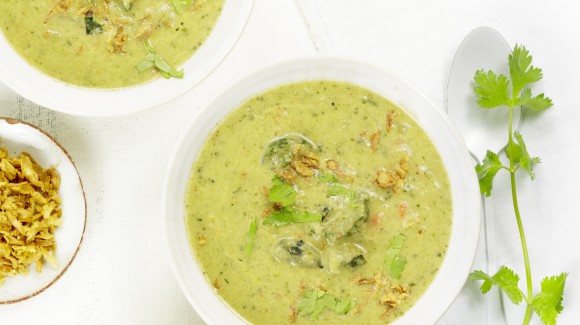 Creamy Asian cucumber soup
Average 3 of 5 stars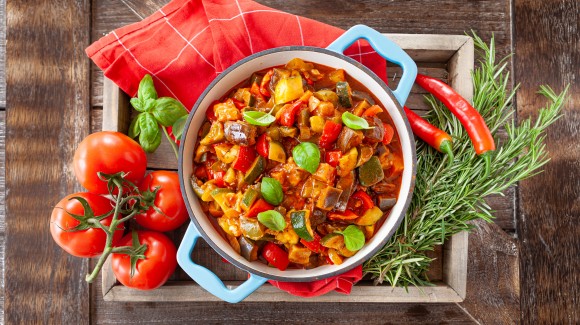 French inspired Ratatouille
Average 3 of 5 stars