When thinking about the most celebrated antipasto dishes distinct to Italian cuisine, a classic tomato Bruschetta has to make it on the list. It's a dish that's commonly served as the first taste of the evening meal to come, something to tantalise your appetite as you get excited about dinner. In this recipe, the tomatoes are cooked instead of served raw. I find this method allows the flavour of the tomatoes to open up and intensify. You can use this extra cooking time in the kitchen to prepare other things or just pour yourself a nice glass of wine and relax while you wait.
I've chosen to use a baguette style bread, but you may select other Italian loaves of bread such as ciabatta for crunch or a sourdough for a distinctive tang.
Preparation
Heat the oven to 180

°

C.
Finely dice the garlic and sauté in a large pan with a splash of olive oil.
Finely dice the tomatoes and add to the pan, and allow to simmer gently for 25 minutes, until the sauce begins to thicken. Stir occasionally.
Cut the baguette into slices and roast in the oven or under the grill until crispy and golden brown.
Spread the tomato sauce over the slices and place back in the oven for a further five minutes.
Just before serving, drizzle over a little olive oil and a few sprigs of fresh rocket or basil as desired.
Tips from the author
This delicious bruschetta can only taste as good as the tomatoes you use, so I recommend choosing nice tasty truss tomatoes for optimal flavour. For some appetising variations on the classic bruschetta, try this seafood-inspired tomato, anchovy and mozzarella recipe or sharpen your taste buds with a roasted pepper bruschetta.
Related salads chosen by others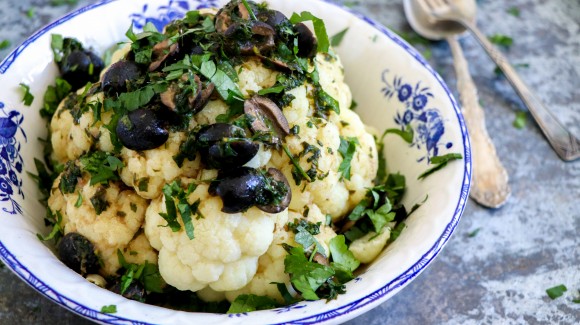 Sardinian cauliflower with anchovies and black olives
Average 3 of 5 stars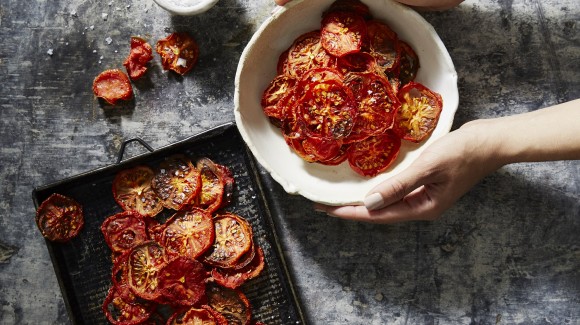 Oven Baked Truss Tomato Chips
Average 3 of 5 stars
Spaghetti with mussels and tomatoes
Average 3 of 5 stars