Zucchini ribbons or zucchini noodles are popular and very tasty! They even can replace spaghetti, so your pastas become salads;-) Have you ever tried zucchini ribbons or noodles?
In this recipe we have grilled the zucchini, it brings the subtile taste of the vegetable to a higher level. This salad is ideal for a filling lunch or for dinner, add some freshly baked bread and an excellent glass of Italian white wine. Enjoy!
Preparation
Preheat the oven to 200 degrees Celsius. Put the tomatoes in a baking dish an drizzle with a little olive oil and a pinch of sea salt. Put the dish for 15 to 20 minutes in the preheated oven.
Wash the zucchini and trim the ends. Using a mandolin or vegetable peeler thinly slice the zucchini lengthwise.
Toss the zucchini with the olive oil.
Quickly grill the zucchini ribbons on 1 side, until lightly marked, about 1 to 2 minutes. Remove to a plate or a baking dish and let cool slightly.
Roast the hazelnuts and keep it aside until serving.
Cut the mozzarella into small chunks.
Prepare the dressing: mix the olive oil and red wine vinegar. Squeeze the clove of garlic into the dressing and add the dried oregano.
Start with some arugula on the plates and put the zucchini ribbons, tomatoes and mozzarella on top of the arugula.
Drizzle the dressing on the salads and finish with the roasted hazelnuts.
Bring to taste with salt and pepper.
Tips from the author
Instead of hazelnuts, use roasted pine nuts or shaved almonds.
The tomatoes and zucchini can be grilled on the bbq as well.
Related salads chosen by others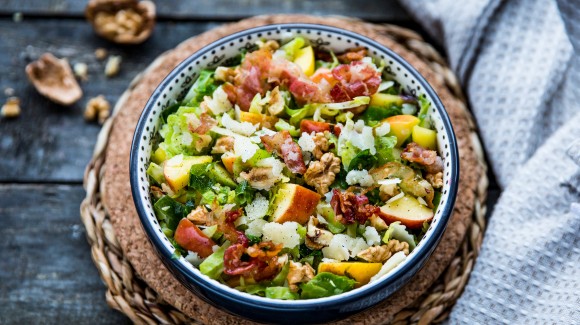 Warm Brussels sprout salad with apple and walnuts
Average 3 of 5 stars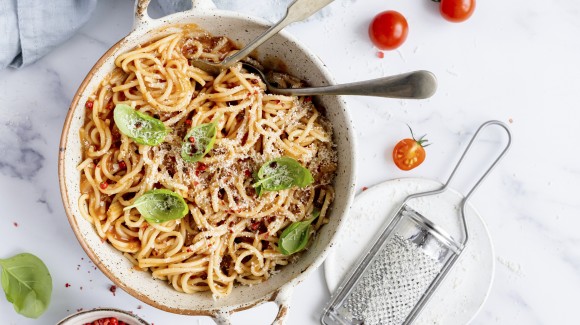 À la minute tomato pasta
Average 3 of 5 stars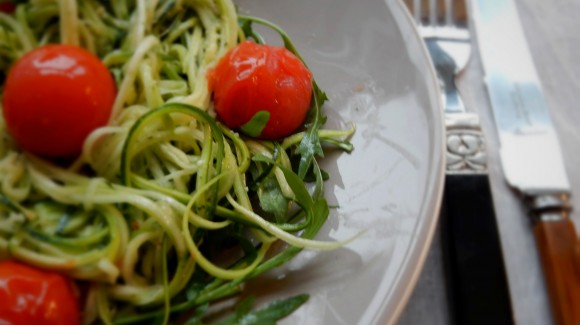 Easy courgette noodles with pesto & grilled tomatoes
Average 3 of 5 stars