Italy is well known for its famous cuisine: from spaghetti and hundreds of different shapes of pasta to pizza and icecream, visitors enjoy many different local recipes. A trip to Italy means it is difficult to eat the same dish more than once. Here we share a spaghetti dish with mussels and tomatoes that makes a perfect "il primo" for 4 people to share.
Preparation
Pick the small leaves of the basil and set aside to use later. Put the rest of the leaves together with the anchovy, a pinch of sea salt and some freshly ground pepper in the pestle and mortar and pound into a green paste. Add the olive oil and the juice of 1 lemon.
Check the mussels and remove any open ones. Bring a large pot with salted water to a boil and cook the spaghetti until it is almost al dente. Drain in a colander.
While the spaghetti is cooking, heat a large saucepan. When it is boiling hot add the mussels and the white wine and cover with a lid. Shake it well and cook the mussels until they open in a few minutes (discard the ones that do not open). Toss in the spaghetti, tomatoes, chopped fresh chilli peppers, basil oil and the remaining lemon juice and mix well and cook until the spaghetti is al dente.
Divide the pasta between 4 plates and sprinkle over the basil leaves.
Tips from the author
The typical Italian meal often starts with antipasto, which is a combination of some small dishes. This is followed by "il primo", which is also a starter then the main course. The salad is usually served after the main course! Then comes dessert and finaly, dinner would not be complete without the traditional "espresso" coffee.
Related salads chosen by others
Broad bean cream with marinated cherry tomatoes
Average 3 of 5 stars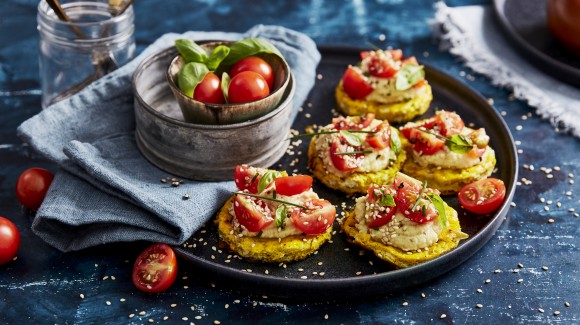 Omelettes (canapes) with hummus, cherry tomatoes and sesame
Average 3 of 5 stars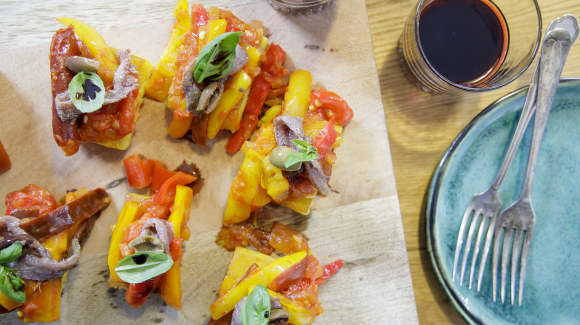 Sweet Palermo Peperonata with polenta and anchovies
Average 3 of 5 stars