Learn the magic of turning cauliflower into couscous. Add some fresh herbs, dates, and apricots and a squeeze of lemon and you will love it.
Preparation
Place the cauliflower florets in the bowl of a large food processor. Pulse until the cauliflower reaches a fine, crumbled consistency. Be careful not to over process; you don't want to puree the cauliflower at all.
Fry the garlic and add the cauliflower couscous for 3 to 4 minutes and leave to cool.
Cut the dades and dried apricots in small pieces.
Chopp the herbs.
Transfer the cauliflower to a large bowl and combine with the dates, apricots and lemon juice and olive oil. Mix all together.
Add the nuts and mix again, bring to taste with salt and pepper and use the red cress to decorate your salad.
Serve the salad in little gem leaves.
Related salads chosen by others
Cantaloupe with parma ham, feta and roasted pumpkin seeds
Average 3 of 5 stars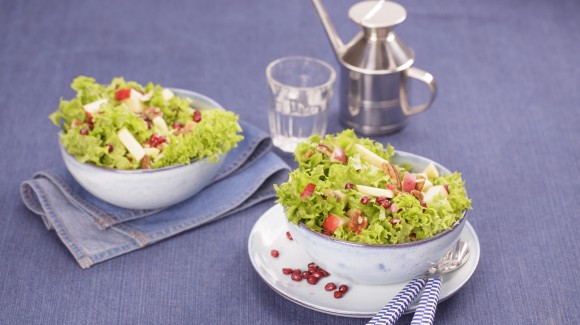 Crispy salad with apple, pecan nuts and goat's cheese
Average 3 of 5 stars
Classic Greek salad
Average 3 of 5 stars