Kohlrabi is a very versatile vegetable. In this salad it is served with fresh baby spinach. Dates and hazelnuts give the salad a crunchy bite and a very special taste.
Preparation
Preheat the oven to 180 °C.
Cut the bread to half and then cut into small triangles. Spread on a baking tray lined with baking paper. Add olive oil, salt and pepper to taste.
Bake the pita bread in about 15 minutes until golden brown and crispy. Let it cool down.
Peel the kohlrabi and cut into 4 mm thin strips.
Cut the spring onions into thin, slanted rings.
Remove the seeds from the dates and cut the fruit lengthwise into strips.
Mix kohlrabi, spring onions, dates and baby spinach in a bowl.
Then add the pita bread.
For the dressing, whisk olive oil, vinegar and honey. Flavour with salt and pepper.
Pour the dressing over the salad and serve with the roasted hazelnuts.
Related salads chosen by others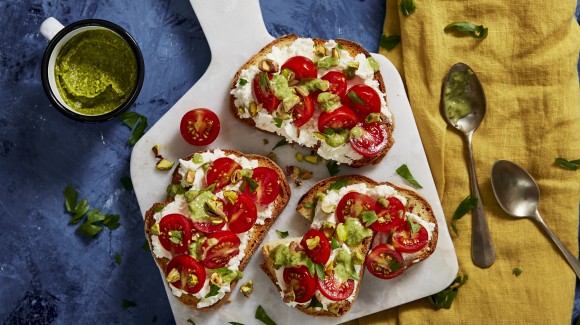 Crostini with ricotta, cherry tomatoes and pistachio pesto
Average 3 of 5 stars
Chicken salad with carrots and goat's cheese
Average 3 of 5 stars
Classic Italian caprese salad
Average 3 of 5 stars