A BLT (Bacon, Lettuce and Tomato) is a type of sandwich. The standard BLT is made up of 4 ingredients: bacon, lettuce, tomato and bread. The BLT evolved from the tea sandwiches served before 1900 at a similar time to the club sandwich. This bacon sandwich was our inspiration for this tasty party food, a BLT salad, serve it in a cocktail glass for a festive look.
Preparation
Pork Belly
Ingredients
5 lbs pork belly, skin on
3 tablespoons Kosher salt
2 tablespoons black pepper
3 each rosemary sprigs
12 cloves garlic, peeled
Preparation
Preheat oven to 450° F. With a sharp paring knife, score skin of pork belly one inch apart in a cross hatch pattern, just through the skin and into the fat. Generously season belly on both sides with salt and pepper, rubbing seasoning into score marks.
Place pork belly (skin side up) on a wire rack in a roasting pan; bake for 20-25 minutes or until skin begins to blister and turn brown.
Reduce oven temperature to 325° F. Baste pork belly with fat drippings; roast for 50 minutes.
Remove wire rack with pork belly to place garlic and rosemary into the fat drippings in the bottom of the pan. Return wire rack to roasting pan; baste pork belly with the fat drippings. Roast for 50 minutes or until pork belly is very tender. Remove from oven; baste once more. Let sit at room temperature until cooled.
Transfer pork belly to a cutting board; cut into 1-inch squares. Optional: Heat pork belly pieces in a skillet before serving.
Buttermilk Ranch Dressing
Whisk all ingredients in a bowl; refrigerate until serving.
The Salad
To make the garnish, place one grape tomato, one piece of pork belly, one piece of avocado, and one more grape tomato on a cocktail skewer.
Combine Arcadian Harvest® remaining grape tomatoes, pork belly, avocado, and red onions in a large bowl; toss with ranch dressing. Fill a stemless martini glass with 1.5 cups salad.
Garnish with the pork belly skewer.
Related salads chosen by others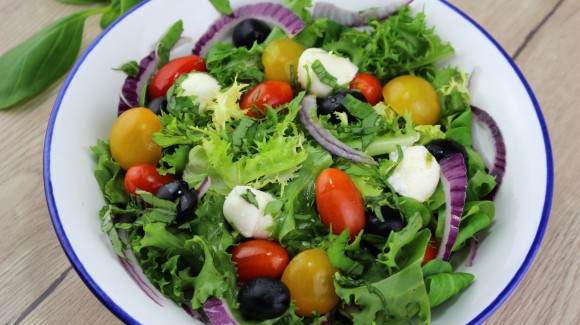 Mediterranean salad with cherry tomatoes, black olives, mozzarella and basil
Average 3 of 5 stars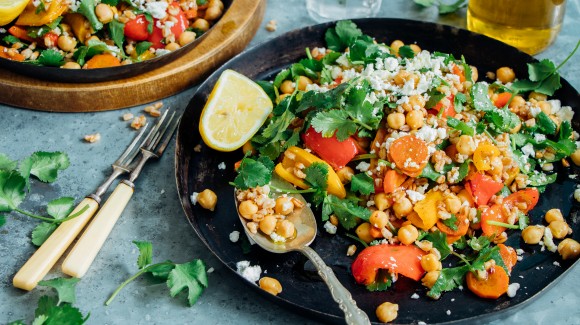 Easy take-away lunch salad with spelt, roasted vegetables from the oven, chickpeas, coriander and feta
Average 3 of 5 stars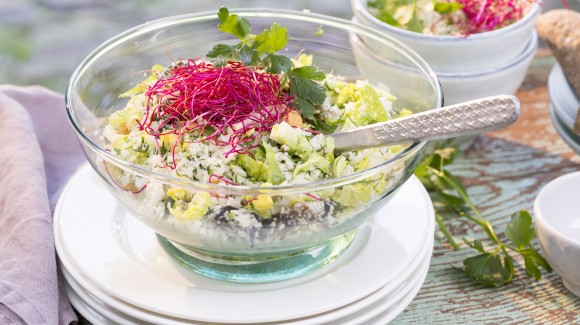 Colourful and crunchy cauliflower rice salad
Average 3 of 5 stars