It's not easy to choose healthy foods when you lead a busy life, and let's face it, we all lead busy lives. Prepping meals makes it easier to ensure you're eating snacks and lunches that are good for you. We recommend to start prepping with recipes you already know, or recipes that aren't complicated - such as this delicious pesto pasta with zucchini and broccoli.
Preparation
For the pesto: combine fresh basil, garlic cloves, pine nuts and olive oil in a food processor or blender. (You can also make a red pesto instead)
Cook the pasta until al dente.
While the pasta is cooking, cut zucchini into semicircles. Drizzle some olive oil in a frying pan and once the oil is hot, add the zucchini with some salt and pepper and saute until tender and crisp, about 5-7 minutes. Set aside to cool.
Meanwhile, cook broccoli in a saucepan of salted boiling water for 5 minutes or until tender. Drain and set aside.
Drain the pasta and return it to the pan. Stir in the pesto and season with salt and pepper.
Once the ingredients have cooled, pack your lunchboxes! Use a container that's air tight, with divided sections so your meal stays fresh.
Tips from the author
Fill your container with some fruit like fresh grapes and half an avocado. You could also add an egg for some extra protein and more vegetables for a more versatile meal.
Want to know more about meal prepping? Read our tips and tricks in this blog.
Related salads chosen by others
How to make cheesy vegetable lunchbox bread
Average 3 of 5 stars
Easy three colour lunchbox salad
Average 3 of 5 stars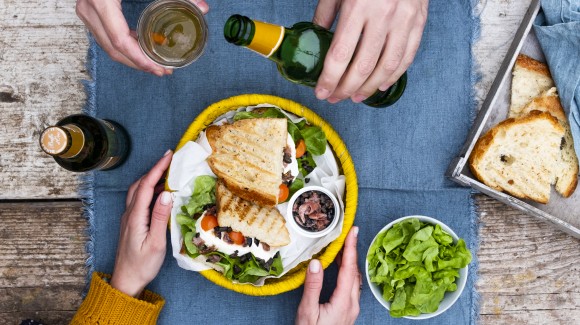 Luxury mozzarella sandwich with garlic tapenade, lettuce, tomatoes and anchovies
Average 3 of 5 stars