In the Netherlands, a sandwich is a pretty common lunch. About seven years ago I had enough of them. I discovered the easy take-away lunch and instead of bringing my lunchbox with sandwiches, I went to the office every day with a bowl full of goodies that I put together that morning.
I made sure everything was ready in the fridge on Sunday evening. A bowl with quinoa, couscous or rice. Fried chicken thighs, tuna or feta. Different vegetables, a boiled egg and avocado. All of this together makes a great meal for the afternoon. It produced astonished looks from colleagues, who did lunch with a bag of sticky sandwiches. They looked at me a bit weird. Secretly annoying, because nobody enjoys colleagues who stare at you while you eat.
Until now. Because I will soon have my own office. And I really love that. Without staring colleagues, I hope ;-). From now on, on the days that I work in my own office, I will bring such a mega well-filled take-away lunch. Because I like it very much, it is healthy and just feels very nice. Today I have a recipe for you, for an easy take-away lunch. I picked spelt as a basis. I love the bite and the taste of it. You can also use wholegrain couscous or quinoa if you like. Then I add lots of vegetables from the oven. Slices of carrot with ras el hanout, roasted tomatoes and peppers. Chickpeas, green herbs, feta, lemon juice and my tastiest olive oil. What do you think? Delicious right?
Preparation
1. Boil the spelt as stated on the package. Drain and let it cool.
2. Preheat the oven to 200 degrees. Lightly oil an oven dish or roasting tray. Mix the pieces of pepper, carrot and tomato with olive oil and ras el hanout. Season with pepper and sweet. Transfer to the baking dish and put in the oven for 20 minutes or until you think the vegetables are soft enough.
3. Mix the spelt with the chickpeas, feta and green herbs. Add the roasted vegetables. Season with olive oil and lemon juice just before serving.
Tips from the author
You can simply prepare this salad in advance. Keep all the ingredients separate from each other and add them together on the day you take the salad with you. Prepare the salad a la minute with olive oil and lemon juice.
Related salads chosen by others
Caesar Salad without anchovies
Average 3 of 5 stars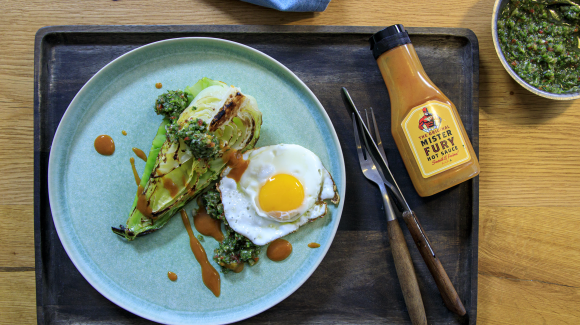 Roasted cabbage wedges with jalapeño salsa verde and fried egg
Average 3 of 5 stars
Baby spinach, celeriac and feta salad
Average 3 of 5 stars