The cuisine of South-East Asia offers up an array of perfectly balanced flavours hidden inside every meal. Sweet matched with salty, tangy matched with spice, and always plenty of fresh vegetables and herbs. This recipe uses distinct South-East Asian pairings to create a light, fresh and interesting salad to serve as a starter or side dish.
The raw vegetable combination of cucumber, radish and carrot makes this salad perfect to eat during the warmer months. Classic Vietnamese flavours like corriander, chilli and fish sauce make the salad aromatic by firing up the senses. The green papaya is optional, however you can usually pick some up at your local Asian grocery. The sour tang of the papaya really gives the salad an extra burst of tropical flavour.
Bonus: if you need a go-to asian dressing to add to your repetoire, this one will work wonders for you. It contains all the elements that light up your taste buds and will enhance any Asian-style salad, stir fry or even used as a light dipping sauce.
Preparation
Julienne slice the raw vegetables, green papaya and thinly slice the spring onion.
Pan-fry peanuts over medium heat until lightly toasted. Transfer to plate and crush.
To prepare the dressing: finely chop the chilli and mix with the lime juice, fish sauce, palm sugar and peanut oil. Whisk until combined.
Toss raw ingredients together with the dressing in a serving bowl.
Top with crushed peanuts and corriander leaves to taste. Season to your liking.
Related salads chosen by others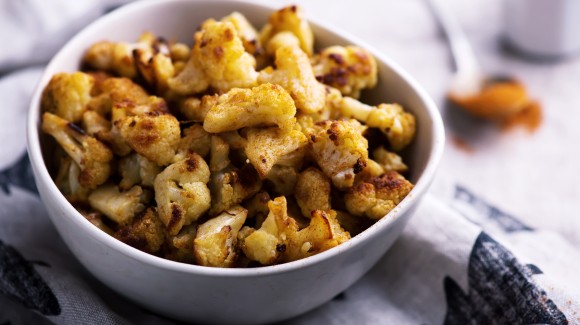 Popcorn cauliflower
Average 3 of 5 stars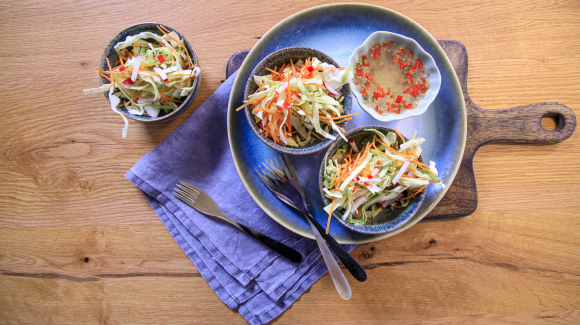 Vietnamese chopped salad
Average 3 of 5 stars
Stir-fried cucumber with vegetables and rice
Average 3 of 5 stars