Trend watchers all over the world listen carefully; onigirazu is the next big thing! Phenomenally popular it is time to reveal the secrets behind this delicacy. An onigirazu is a sandwich made with sushi ingredients. This sandwich, made of nori sheets filled with sushi rice and your other favourite ingredients is easy to make in advance and to take with you. A cracker of a sandwich which breaks your classic sandwich habit… that's how I like it!
Play around with the filling of this sushi sandwich. You can add whatever ingredient to give it that unique taste you are looking for. This time I chose a filling of soy omelette, green vegetables such as avocado, bok choy and seaweed and my magic ingredient: deliciously spicy and fresh radishes. Adding miso mayonnaise, a mixture of miso and mayonnaise, to your sushi rice is the final touch which takes this sandwich to the next level.
The sushi sandwich is a perfect make-ahead meal which you can take for a picnic or just on the go. It is my personal 'pane perfetto' or better 'sushi perfetto'! So let's get started and make your favourite onigirazu!
Preparation
Follow the directions on the package to cook the sushi rice. Let it cool.
Beat the eggs in a bowl and mix them with the soya sauce. Heat a small frying pan over medium-high heat and cook a thick omelette. Let it briefly cool and then cut the omelette into quarters.
Cut the radishes into strips (julienne), the avocado into slices and the spring onions into rings. Cut the leaves of the butter lettuce and cut them into pieces about the same size as the omelette quarters. Mix the mayonnaise with the miso pasta.
Cut some cling film larger than your nori sheet and put it on your counter. Place the nori sheet on top with the shiny side down and rotate the sheet 45 degrees. Grab a handful of rice, place it on the middle of the sheet and form a square of rice about 1 cm (0.4 inches) thick. Spread a teaspoon of miso mayonnaise on it.
Top it with a few leaves of butter lettuce, a quarter of an omelette, a small handful of seaweed salad, some slices of radish and avocado and finally some spring onion rings.
Wet the corners of the nori sheet to glue everything together and then fold the right and the left corner until you get a small packet. Repeat the same procedure with the bottom and top corners. Wrap the cling film around the sushi sandwich and place the sandwich between two cutting boards. Put something heavy on the top cutting board. Set it aside for a while. Do the same to prepare the other sandwiches.
Remove the cling film before serving the sushi sandwiches and cut them with a sharp knife. Serve with miso mayonnaise, some spring onions and some black sesame.
Related salads chosen by others
General Tso cucumber and oven steamed rice
Average 3 of 5 stars
Chargrilled cabbage with Asian pesto
Average 3 of 5 stars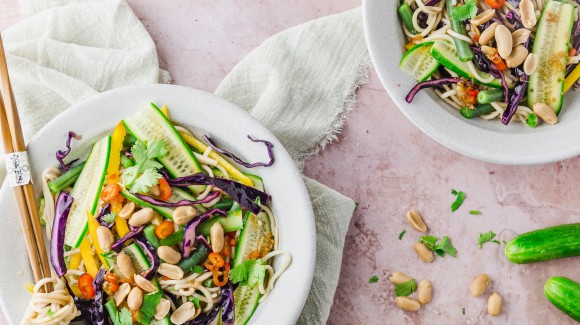 Oriental salad with baby cucumbers and a spicy dressing
Average 3 of 5 stars