Pointed cabbage on the BBQ may seem a little crazy. But the pointed cabbage develops a delicious smoky flavour when prepared directly on a hot BBQ. The outer leaves are charred, but these protect the underlying leaves, which are tenderised through this cooking method. Combined with the Asian pesto, you have a delicious vegetarian BBQ dish.
Preparation
Light the BBQ and once the biggest flames have died down, you can immediately place the pointed cabbage on the grill. Leave it on the grill for an hour. While the outside may look black, the inside will be cooked to perfection.

Meanwhile, make the Asian pesto. Mix all the pesto ingredients in the blender and blend briefly, so that the fresh herbs are fine, but the peanuts are still coarse.

Remove the pointed cabbage from the heat and remove the outer blackened leaves. If the next leaves are not burnt, but are a bit dark, you can leave them as they add flavour. Cut the pointed cabbage into quarters, serve on a plate with the pesto. Sprinkle with some crushed peanuts.
Related salads chosen by others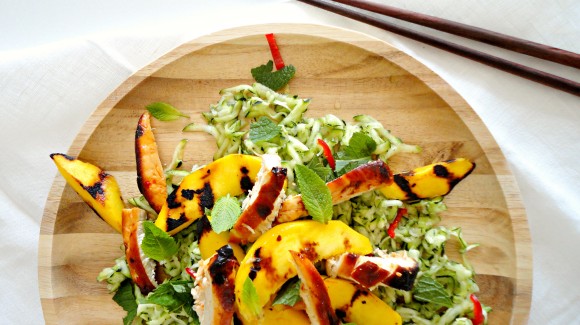 Fresh zucchini salad with spicy chicken and grilled mango
Average 3 of 5 stars
General Tso cucumber and oven steamed rice
Average 3 of 5 stars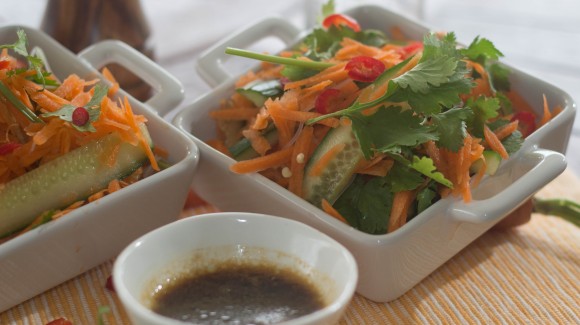 Spicy noodle salad with carrot, cucumber and coriander
Average 3 of 5 stars