Quick and easy salads kids will love - with zucchini
One of the things that has helped me in my quest to incorporate more vegetables and fruit into my life is playing around with different cooking styles and presentations. I had never thought to eat zucchini raw until I saw the fresh flavors of the mango and zucchini salad, and grated raw zucchini was a great way to ease into it (here's a few more awesome ways to eat zucchini). With red bell peppers (capsicums), my kid will eat/tolerate them when cooked, but she loves the sweetness when they are raw and could eat a whole plateful, so thinking outside the box has really helped. When I signed my kid up for piano lessons, her teacher emphasized that she is not a "pushy" teacher and mainly wants to foster a love of music, and I sort of take that approach with vegetables. I love food and I don't ever want her to be one of those kids that forces down some boring steamed broccoli; I want to find ways to present them to her so she can grow up loving these yummy veggies as much as I do, and try and involve her in the process and take her input on board whenever possible.
This week I'm sharing my other favorite Love My Salad recipe, this amazing zucchini ribbon, fresh mozzarella, and toasted hazelnut salad, the second that made it into my regular dinner rotation. Another quick and easy one, since those are the ones I am drawn to, and pretty simple ingredients – I did have to buy red wine vinegar to make this one, though obviously that keeps for ages in the pantry so not a huge investment, and got me started on red wine vinaigrettes, which are a nice little tweak if you're just making a simple salad but want something a little different to dress it (I'm usually more of a balsamic vinaigrette person). I do love hazelnuts but only buy them rarely, so I tend to use almonds since I generally have those at home. Same with the rocket – if I have it I love it in this recipe, but I usually keep romaine (cos) lettuce in the fridge, so I'll use that if I don't feel like making a special trip to the supermarket. This salad also works great for kids, although for my own I usually "deconstruct" the salad – I'll put the tomato and lettuce as a little salad with a tiny bit of dressing (quite a strong flavor for most kids), then the bocconcini separate, the grilled zucchini, and the toasted nuts.
As spring starts warming the days up, I usually start craving these light, healthier meals, particularly over heavy pastas and steaks, so whip up this amazing salad on the next warm evening and let us know what you think! This zucchini, spicy chicken, and grilled mango salad uses the zucchini a bit differently, sort of as a base for the salad, which is a cool way to incorporate it, especially as the weather warms up. You can leave the chicken marinating in the fridge to make it an easy weeknight dinner, and with the grill involved, you'll definitely have to eat this one out in the beautiful summer sun. I'm awful about using fresh herbs, as I am a terrible gardener, but will occasionally swipe some of the neighbors' fresh herbs (with their blessing!) and it's a pretty quick way to make your meal that little bit more special.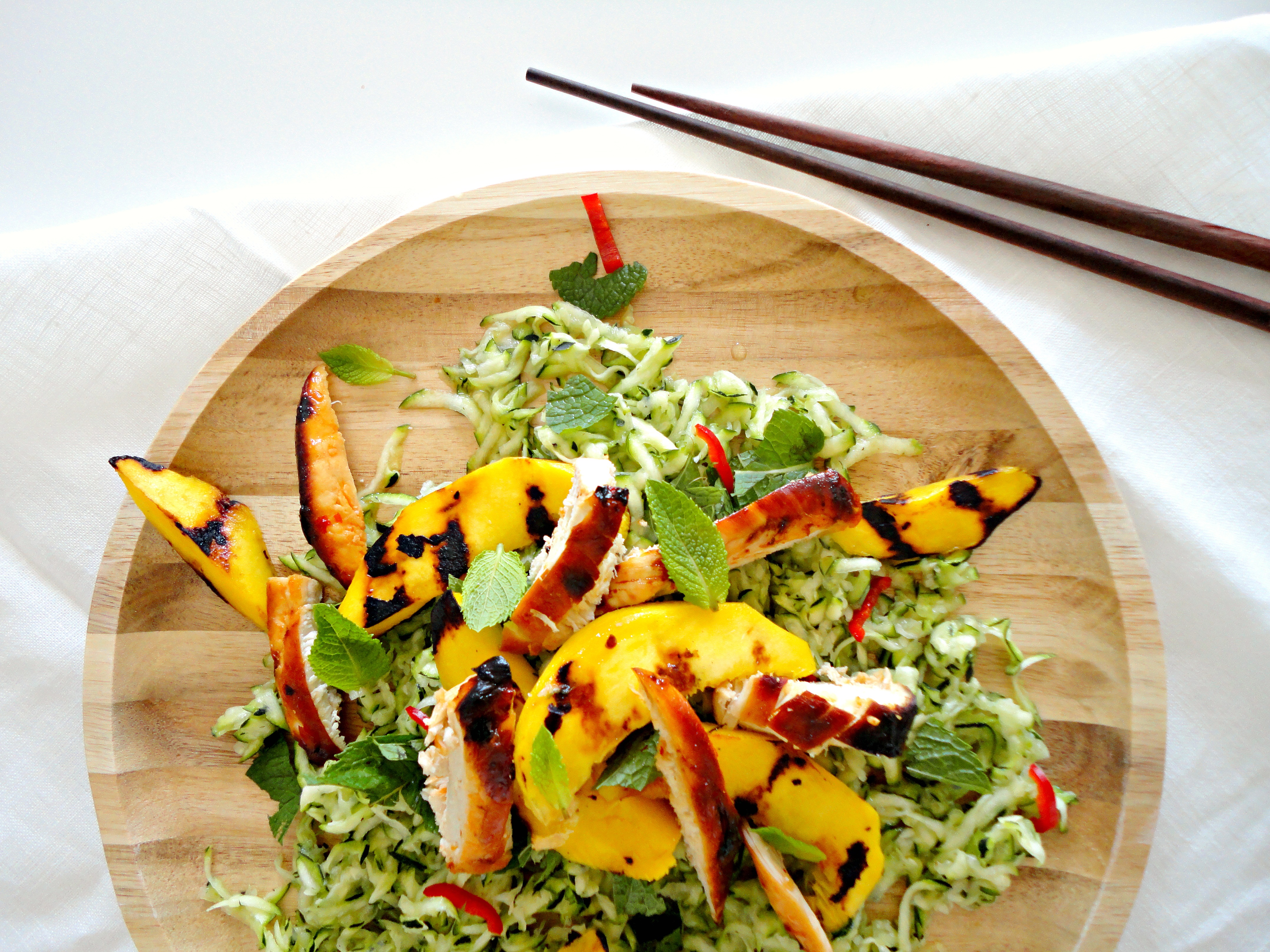 Enjoy!
---
From the author: I love salads, but being a working single parent I'm often short on time. Still, it's important to me to eat well, and to pass on my love of veggies with my (not so) little one, and now that I've got a few tricks up my sleeve I'd love to share what has helped me do that. More tips can be found in the rest of my "Quick and easy salads kids will love" series, see my post about tasty mushroom salads, or mixed vegetable dishes, or check out my profile for my recipes (or our "quick and easy salads" section); also, feel free to chime in with some of your salad hacks!