Hot, sunny weather and tropical salads go hand in hand. Celebrate the summer with a refreshing combination of zucchini, capsicum, spicy chicken and mango: a salad packed with mouth watering and surprising flavours. Zucchini is served raw in this salad making it wonderfully juicy and fresh. Grilling the mango highlights its natural sweetness by caramelising the sugars. The salad is finished with complementary flavours like lime, mint and chilli giving it a real tropical burst.
Preparation
Place the chicken breasts in a bowl and coat with a generous amount of sweet chilli sauce. Finely slice the garlic and red chillies and mix well with the chicken. Leave in the fridge for 1 hour to marinate.
Preheat the oven to 200 degrees Celsius. Place the chicken breasts on a lined baking tray and roast in the oven for 40 minutes.
Coarsely grate the zucchini and combine with the juice of 4 limes and some sea salt and black pepper to taste.
Peel and slice the mangoes into large slices. Place slices on an oiled grill, turning once, until lightly browned on the sides.
Slice the capsicum (bell pepper) finely. Remove the chicken from the oven and slice fillets into thin strips.
Divide the zucchini onto four plates to create a bed for the salad. Place the sliced mango, chicken strips and capsicum on top.
Tear the mint leaves apart and sprinkle over the dishes.
Related salads chosen by others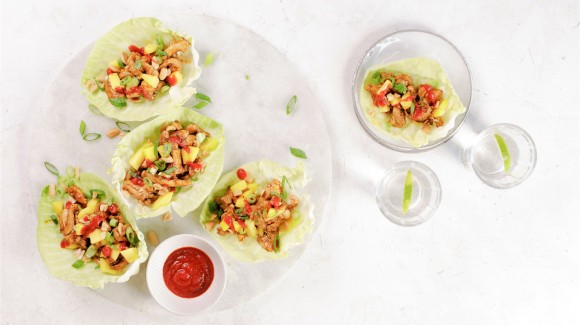 Cabbage wraps with spicy chicken and mango
Average 3 of 5 stars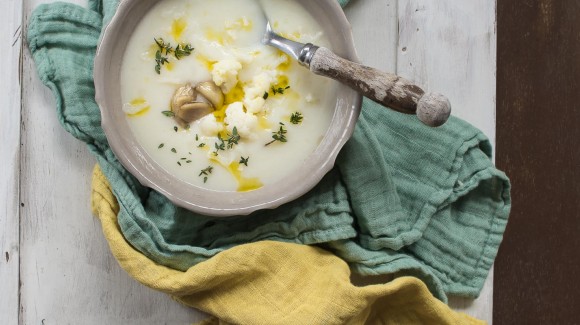 Creamy smoked garlic and cauliflower soup
Average 3 of 5 stars
Tomato salad with sugar snaps, coconut milk and fried onion
Average 3 of 5 stars