Nothing beats a backyard barbecue on a sunny weekend day. When you're surrounded by friends and family sharing stories and enjoying fresh food--there's nothing better. And when you get asked to bring a dish to a barbeque, you want it to be memorable and bring joy to the occasion. This recipe will work wonders if your goal is to impress with simplicity without compromising in flavour.
To make sure the kebab sticks stand out in flavour, choose cocktail varieties of tomatoes that deliver sweet bursts of freshness. Look for mini mozzarella sometimes called bocconcini in the supermarket as they look quite appealing on a stick.
This dish is quick and fun to prepare and can be made quickly before you head out the door. It's also a really fun recipe to get kids excited about the flavour of tomatoes.
Preparation
Cut the tomatoes in half.
Thread the ingredients onto the stick, alternating with a tomato half, a mozzarella ball and a basil leaf. Repeat process for each of the kebabs.
Mix together the balsamic vinegar, olive oil, salt and pepper in a bowl.
Arrange the skewers on a plate and finish with a light drizzle of the dressing.
Tips from the author
This recipe makes 4 kebabs so if your aim is to entertain, double the quantities of ingredients. If you love the idea of veggie kebabs and want more variety, try this recipe that features cucumber, apple, capsicum, tomato and onion.
Related salads chosen by others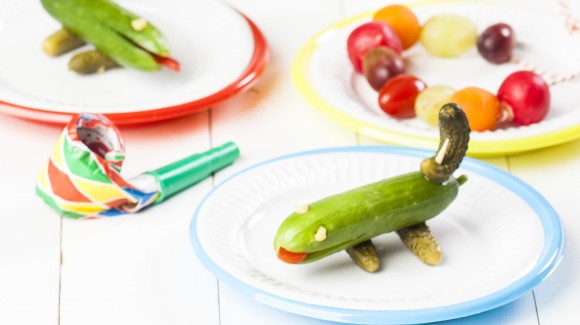 Cucumber crocodiles & vegetable necklaces
Average 3 of 5 stars
Qukes® baby cucumbers teriyaki beef bowls
Average 3 of 5 stars
Vegetable sushi with quinoa
Average 3 of 5 stars