Gone are the days of buying supermarket coleslaw or slaw-style salads. Once you try this recipe, you'll realise how simple and tasty it is to make your own coleslaw from scratch. For a refreshing twist on the classic recipe, I decided to include a couple of my favourite vegetables: zucchini and beetroot. They're both perfect served raw with some snow pea sprouts added for that lovely crunch.
I love to serve this salad as a side dish at a barbeque or when I'm entertaining guests in my home. With crunchy textures, vibrant colours and a subtle tang from the dressing, it works really well as an accompaniment to a meat dish or to balance out richer or creamier main meals.
What's great about this recipe is the ingredients can be altered depending on what vegetables you have in the fridge. Simply grate the veggies of choice and add to the salad. Some suggestions that work well are grated cabbage, cucumber, carrot or try fennel for something extra special.
Chef Peter Manifis created this zucchini and beetroot slaw-salad for vegetables WA
Preparation
In a large bowl, whisk together the dressing ingredients to make the lemon vinaigrette.
Combine the grated zucchini and beetroot with the snow pea sprouts, pine nuts and currants in a bowl.
Mix together the raw ingredients with the dressing and toss well.
For optimum flavour, allow the salad to marinate at room temperature for 20 minutes.
Serve and enjoy.
Tips from the author
If you love being resourceful in the kitchen, why not make a large batch of the recipe and store in the fridge in a resealable bag. Just make sure it's stored seperately from the dressing to prevent the salad from losing its crunch. You can also pre-make this dressing and store in a jar to use at a moments notice.
If you love crunchy salads with a secret twist, we think you might like to try these recipes:
A vibrant red power salad with red cabbage and apple.
A crunchy salad you'll want to show off at work with broccoli, avocado and goji berries.
Related salads chosen by others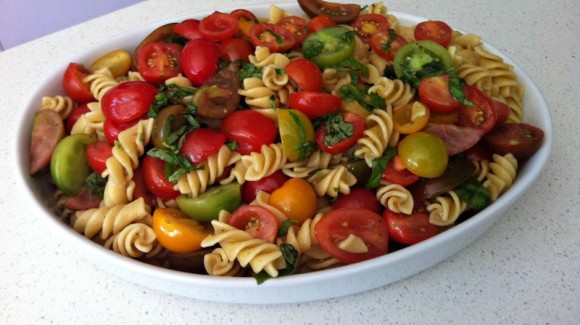 Mixed tomato and fusilli salad
Average 3 of 5 stars
Quinoa and avocado salad
Average 3 of 5 stars
Spinach salad with apple, mixed nuts, and feta
Average 3 of 5 stars