Have you ever heard of sticky aubergine lettuce wraps? We predict that once you've tasted this, you'll never say you don't like aubergine again. We even dare to say that everyone will like this. Especially when combined with the sweet and sour red cabbage and the crunchy lettuce leaves that serve as a crunchy bed for all this goodness. We challenge you to try our sticky aubergine with red cabbage served on crunchy lettuce.
Preparation
Cut the aubergines into cubes. Then mix them in a sieve with a teaspoon of salt and place the sieve on a bowl. Leave for at least 30 minutes, so the aubergine loses some of its moisture.
Cut the red cabbage into thin strips. Then mix these strips in a saucepan with the white wine vinegar, sugar, and a pinch of salt. Bring to a boil and then reduce the heat and let simmer for 10 - 15 minutes until the red cabbage has softened.
Heat a generous amount of oil in a frying pan over medium-high heat. Mix the aubergine cubes with the cornstarch and then fry them in the frying pan until tender, brown, and crispy. If necessary, do this in batches, so that the aubergine cubes become extra brown and crispy.
In the meantime, finely chop or crush the garlic and mix it with the rest of the sauce ingredients, except the cornstarch, in a saucepan. Bring to the boil and then reduce the heat to low. Add the cornstarch, stir well and simmer for a few more minutes.
Divide the lettuce leaves between 4 bowls. Just before serving, mix the aubergine cubes with the sauce and serve it over the lettuce leaves. Top with the red cabbage and garnish with the peanuts. Voila, you are ready to serve your sticky aubergine lettuce wraps!
Related salads chosen by others
Chickpea burger with red onion and Salanova
Average 4 of 5 stars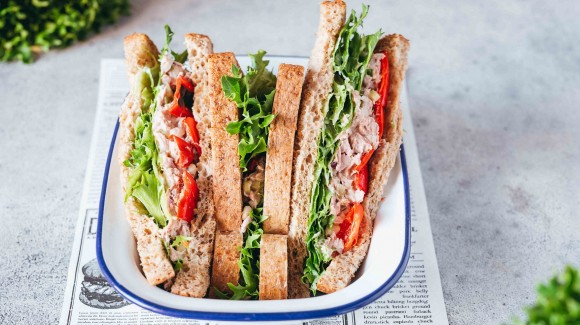 Tuna salad sandwich with grilled peppers
Average 3 of 5 stars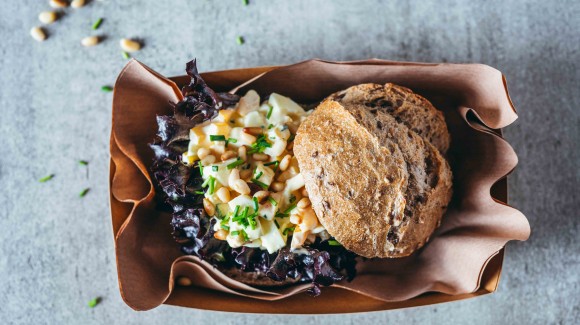 Egg salad sandwich with Lollo Rossa
Average 4 of 5 stars