This chickpea burger with red onion and Salanova is amazing, you should try it! The Salanova Batavia is ideal on a burger. This hearty lettuce is the best burger base you could wish for. It is firm and crunchy and holds back (meat) juices well. In this delicious burger, the fresh notes of the lettuce marry well with the earthy flavour of the chickpea. Add in the sweet and sour flavours of the softened red onion along with the creamy sweet chilli and mayonnaise sauce, and you have a taste sensation!
Preparation
Put the chickpeas together with the garlic, shallot, flour, paprika, chilli powder, onion powder and plenty of salt and pepper in a food processor. Blend into a dry puree. With your hands, form 2 flat burgers the size of the buns you are using. Place on a sheet of baking paper on a plate and refrigerate for at least 30 minutes.
Cut the red onion into thin rings. Heat the white wine vinegar with the sugar, a pinch of salt and the onion rings in a saucepan until the liquid starts to bubble. Then turn down the heat and let the onions simmer for 5 – 10 minutes until they are completely soft. Set them aside until ready to serve.
Spread the panko on a plate and place the burgers alternately in it, pressing gently so that the panko sticks to the burgers.
Heat a generous amount of oil in a frying pan and brown the burgers on both sides. Turn the burgers over carefully as the consistency is fairly loose.
Mix the mayonnaise with the sweet chilli sauce.
Cut the buns open and place two Salanova lettuce leaves on the bottom of each bun. Top with the burgers and spread the soft onion rings over them. Distribute the sweet chilli mayonnaise between the two burgers, add the top half of the burger bun.
Your chickpea burgers with red onion and Salanova are ready to be served!
Related salads chosen by others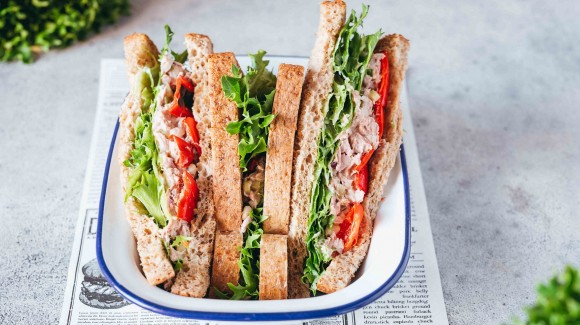 Tuna salad sandwich with grilled peppers
Average 3 of 5 stars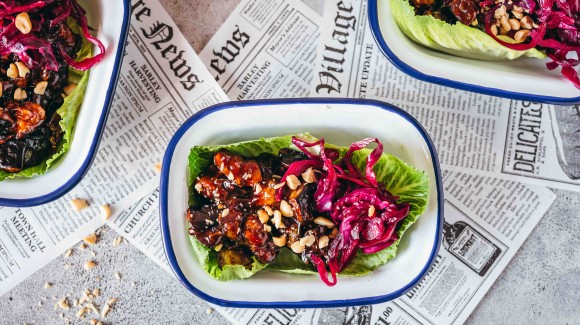 Sticky aubergine lettuce wraps
Average 3 of 5 stars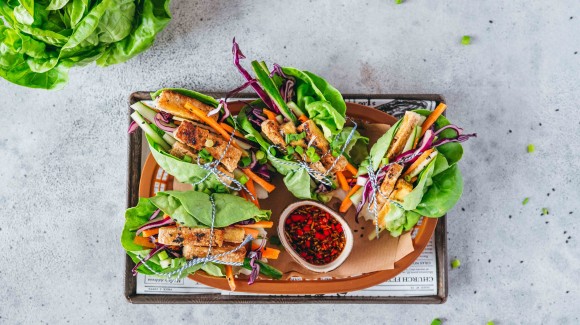 Tofu lettuce wraps
Average 3 of 5 stars