With Christmas fast approaching, simple but fancy food is on my mind. If you're entertaining this year, whether it be for family, friends or yourself, a few quick and easy dishes can really bring a smile to faces at the table.
I love food that can serve as either an appetiser or a main meal. One of my favourites is quiche and I love the minimal washing up as all of the ingredients go into one mixing bowl. Serve it hot or cold, at any time of the day or year, and you can change up ingredients very easily. It's also possible to make it ahead of time and you can freeze it too.
My children love when I include mini quiches in their lunchboxes because they can eat them with one hand while still playing. It brings a smile to my face remembering how they love helping to scramble the eggs and mix in all the ingredients. When we open the oven their little faces light up as they watch the bubbling cheese on top and realise they helped in our latest tasty creation.
Preparation
To make your own pastry, melt the butter and mix with the flour and cottage cheese until combined well. Place in an air-proof dish and refrigerate for 1 hour.
Place the pastry into a pie dish, or muffin tins and press into the sides.
Mix the quiche ingredients thoroughly, then pour into the dish. Top with grated cheese.
Cover with foil and bake in a hot oven at 200 degrees Celsius for 10 minutes, then reduce heat to moderate 180 degrees Celsius and cook for approximately 35 minutes. Remove the foil and cook until set and golden on top. You could also add some breadcrumbs for added texture and crunch. To check if it's cooked through, use a fork or knife and pierce the quiche. If it emerges with a batter-like consistency, cook for a further 5 minutes and check again. You will know it's cooked when the fork/knife comes out clean. Season to taste - I like to use vegetable salt, then enjoy!
Tips from the author
Quiche is so versatile and you can include almost any ingredient you like. I often include red salmon, spinach, caramelised onion, cheese and flavour with herbs and vegetable salt, but you could include mushrooms, tomatoes, marinated capsicum, zucchini, leek, asparagus, sundried tomatoes or olives – the list of options is endless really! You can also make your own pastry or use frozen puff pastry for added crunch, or even shortcrust pastry for less mess and a slightly sweet twist.
Serve with a simple side salad of butter lettuce, tomato wedges and mozzarella or feta. Top with pomegranate for a festive twist and serve with a refreshing lemonade.
7 ways to get through your day, with the goodness of spinach
12 ways to enjoy the great taste of tomatoes
Related salads chosen by others
Celery inspired smoothies
Average 3 of 5 stars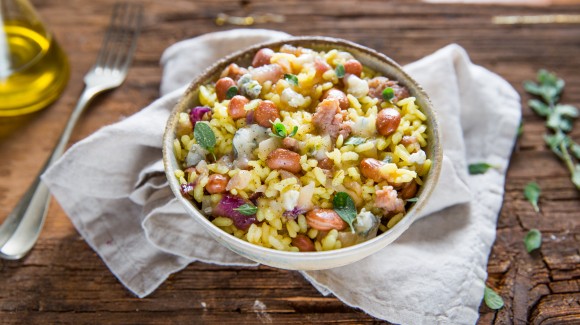 Rice salad with borlotti beans, gorgonzola and luganega sausage
Average 3 of 5 stars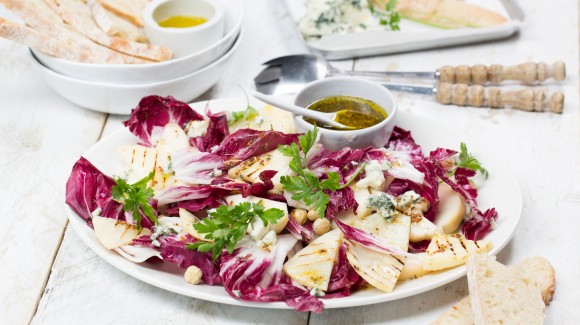 Grilled celeriac salad with pear and blue cheese
Average 3 of 5 stars