Need something refreshing, what about lemonade with fresh fruit like watermelon, strawberries and blue berries?
Preparation
My favorite cimbination is strawberries with basil, cucumber, mint, peach and raspberries. But you can combine your flavoured water with any fruit.
Use what you have in stock and add 1,5 liter of water, leave the water in the fridge for at least half an hour to cool and to let fruit and herbs flavour the water.
A citrus kind of fruit helps to make it extra fresh, use the juice of half a lemon or orange and use the other half to cut into nice slices to put inside the water jar.
To add the fresh herbs it's best to crack the leaves a little bit to get the flavour in the water. Big fruits can be cut in slices or chunks, smaller fruits like raspberries and blue berries are better to add them without cutting.
Related salads chosen by others
Watermelon salad with nectarine and grated coconut
74 People like this recipe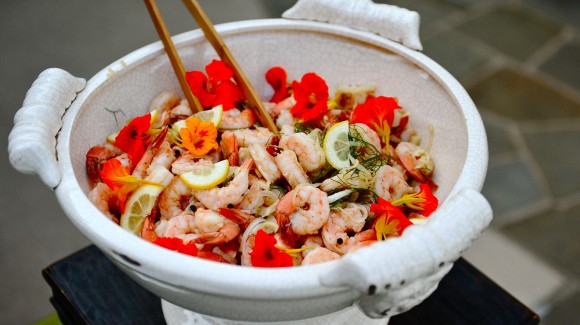 Vegetable seafood salad
45 People like this recipe
Tomato Salad with Tarragon Dressing
115 People like this recipe