Inspired by the flavours of autumn, this pumpkin salad touches on four key elements to craft the perfect balance of sun-drenched colours, texture and taste.
According to restaurant consultant Anne Greer McCann, there's a proven formula for salad success. You need a bed of greens, colourful vegetables and fruit, crunchy textures and a dressing that ties everything together. And for a richer palate, lift the salad by adding creamy cheese.
By applying this formula, we ended up with a winning recipe guaranteed to work every time. Tender roasted butternut pumpkin combine perfectly with soft Salanova leaves, crispy bacon and crunchy nuts. The addition of creamy goats cheese brings boldness to the salad, but can be left out depending on your preference.
Preparing a butternut pumpkin can be tricky as the skin is often quite tough. Take a look at this handy guide to make it quick and easy for you.
Your next autumn gathering will be a fabulous success if you bring along this salad. The magic of cooking formulas never fails.
Preparation
Preheat the oven to 190ºC.
Slice the butternut pumpkin into small bite-sized cubes and divide over a baking tray.
Lightly coat with oil and season to taste. Roast in the oven for 20 minutes or until [pumpkin begins to brown.
Heat a frying pan over medium heat and roast the pine nuts for three minutes or until golden. Set aside.
Fry bacon in the frying pan for six minutes or until crispy. Set aside.
Whisk the dressing ingredients together in a bowl. Season to taste with salt and pepper.
Remove the core from the lettuce heads. Wash and dry the leaves and arrange in a large bowl or serving platter.
Divide the pumpkin and goat cheese over the salad. Top with pine nuts and bacon and drizzle over the dressing.
Tips from the author
Autumn is an abundant season for ripe and fresh salad ingredients like pear, pomegranate and pumpkin.
This vibrant salad draw heavily on this bountiful season:
Autumn salad with pomegranate, mixed nuts and quince jelly dressing.
Related salads chosen by others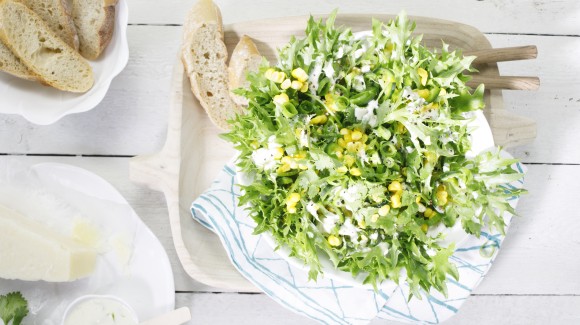 Crispy salad with sweetcorn, jalapeño and coriander
Average 3 of 5 stars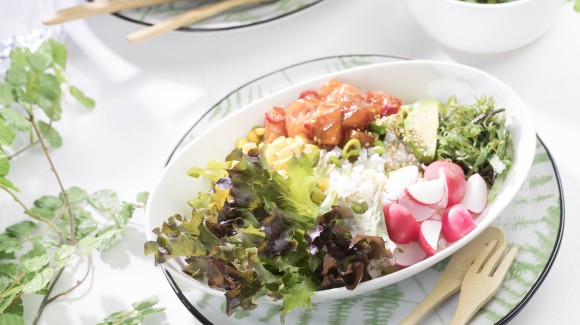 Poké bowl with salmon and avocado
Average 3 of 5 stars
Salanova salad with celery and smoked chicken
Average 3 of 5 stars