When you imagine cucumber in a salad, instantly your mind conjures up refreshing and cooling images. With juicy flesh made almost entirely of water, cucumbers are known for the pick-me-up effect.
Looking back on my past kitchen dramas, I remember a time I was chopping with chilli and stupidly rubbed my eyes. Placing rings of cucumber on my eyelids absorbed the sting and helped me calm down. This salad will have a similar effect if you serve it with a spicy main meal.
It's light, balanced and refreshing –the perfect accompaniment to a heavier main dish. Cucumber is combined with chilli and red onion, but the dressing here really makes this salad come alive.
The combination of fresh herbs, bay leaves, some added sweetness and a touch of acidic tang brings a heavy dose of flavour and substance. This salad is quick and easy to prepare and perfect as an accompaniment to chicken or meat dishes served with noodles or rice. Remember to remove the chilli seeds when chopping, or if you really like the heat, leave them in. Just remember not to rub your eyes.
Preparation
Wash and thinly slice the cucumber.
Halve the chilli, remove seeds and finely chop.
Halve the onion and slice thinly into rings.
In a small bowl, dissolve the sugar in the hot water and combine with the vinegar.
Add the chilli, onion, crushed bay leaf, parsley and cucumber to the salad and toss lightly. Season with salt.
Store in the fridge to let the flavours infuse before serving.
Tips from the author
For extra volume and texture, why not chop some crunchy lettuce leaves and add to the bowl.
To explore more refreshing side dishes and salads, take a look at our content section featuring the perfect Christmas side dishes.
Related salads chosen by others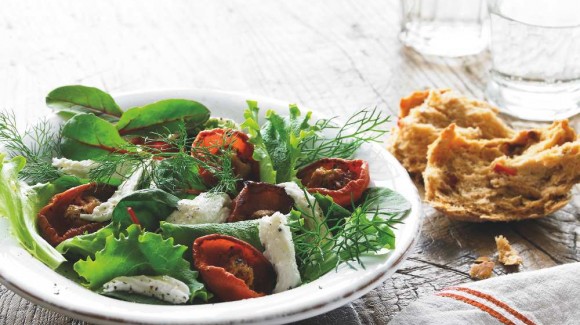 Fennel tops and sweet leaves with oven roasted tomatoes
Average 3 of 5 stars
Baby gem hearts with roasted peppers and anchovy dressing
Average 3 of 5 stars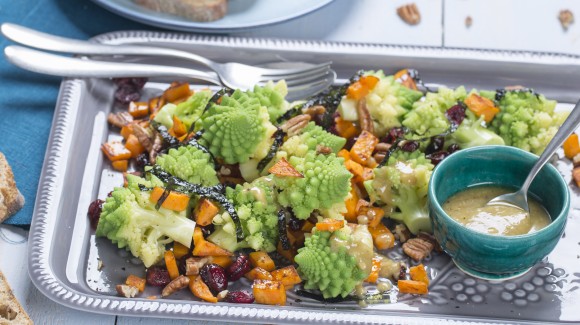 Romanesco and sweet potato salad with tahini
Average 3 of 5 stars