A very tasty dish that is typically from the Ukraine. It is popular throughout Eastern Europe and there are many regional variations. Please enjoy this version.
Preparation
Place the beef shank, the onion, celery, bay leaves and the black pepper kernels in a large saucepan and add 3 liters of water. Bring to boil, then reduce the heat and simmer for 1½ hour, until the meat is cooked, skimming if necessary. Remove the beef shank from the saucepan and finely chop the meat of the shank. Keep for later. Pour the stock through a sieve and return to the saucepan.
Heat the oil in a large frying pan and gently glaze the chopped onion for a few minutes then add the garlic and grated carrots. When the carrots have become translucent, add the grated beetroot and white wine vinegar. Cook for 10 minutes, until the beetroots release their juices and the colour changes to purple red. Add the tomatoes and tomato purée.
Place the vegetables in the saucepan with the stock. Bring to a boil and let simmer for 15 minutes on low heat. Finally add the cabbage, potatoes and sugar. Bring to boil once more then reduce to a low simmer for another 15 minutes.
Your Borscht is ready to serve, or you can leave it overnight (the flavours even get better!) Serve hot.
Divide the soup into individual serving bowls. Garnish with a large dollop of sour cream and top with finely chopped fresh dill.
Related salads chosen by others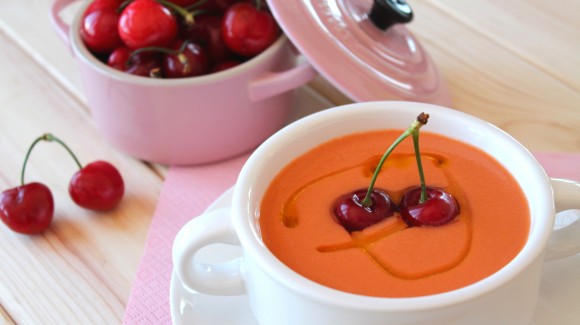 Cherry and vegetable gazpacho
Average 3 of 5 stars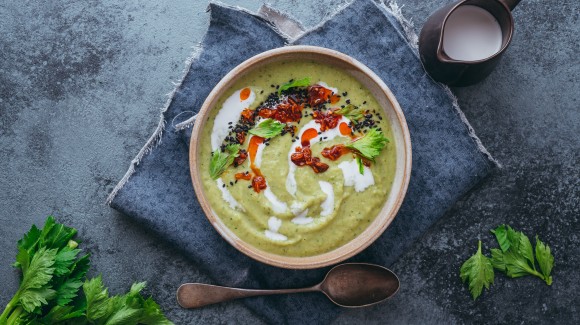 Celery soup with courgette and chilli oil
Average 4 of 5 stars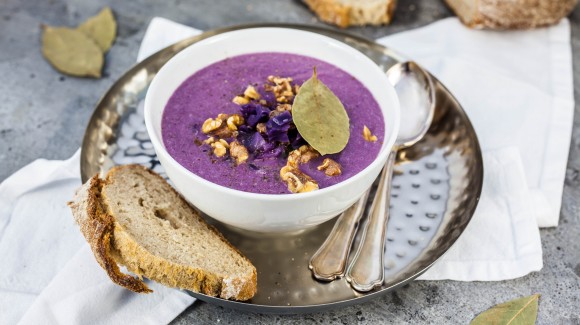 Red cabbage soup topped with apple and walnut
Average 3 of 5 stars