Superfoods like quinoa are perfect as a base for fresh, low calorie and nutritious meals. As a seed, quinoa is rich in proteins, fibre, vitamins and minerals. It also helps regulate cholesterol.
Quinoa is also gluten-free, so it's a great substitute for things like couscous in a gluten-free tabouli. In this recipe we create a delicious salad with capsicum, tomato, cucumber, black olives and mint. Enjoy!
Preparation
1. Wash one cup of quinoa thoroughly.
2. Heat three cups of vegetable broth with a little salt and when it starts to boil add the quinoa. Cook for about 17 minutes, being careful not to overcook. When it is ready, drain the quinoa (strain well as quinoa holds a lot of water) and set aside to cool.
3. While the quinoa cooks, cut all the vegetables (cucumber, tomato and capsicums) into cubes, and slice the olives.
4. Put the quinoa in a large bowl and mix in the vegetables, olives and chopped mint. Combine well.
5. Add salt, lemon juice to taste and extra virgin olive oil. Mix well and serve.
Tips from the author
Quinoa makes great salads and works well with all kinds of vegetables. You can also try it with avocados, onion and cherry tomatoes ;)
Related salads chosen by others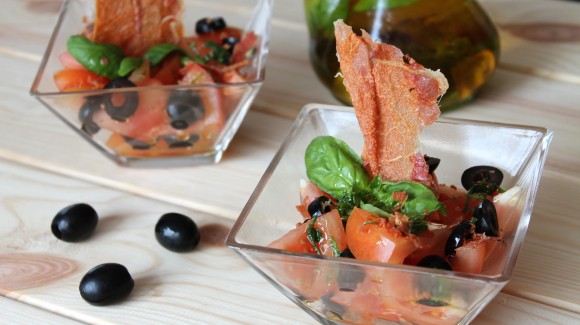 Spanish crispy ham salad with tomatoes and a basil vinaigrette
Average 3 of 5 stars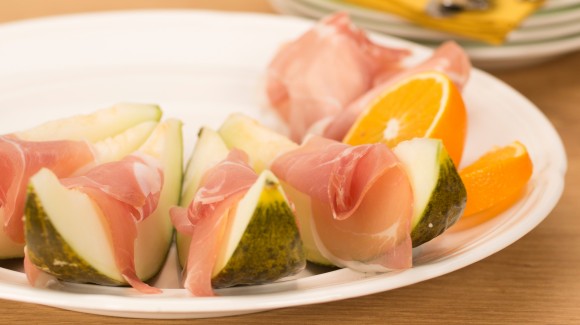 Piel de Sapo melon with Serrano ham
Average 3 of 5 stars
Coca recapte (Spanish flatbread with smokey grilled vegetables)
Average 3 of 5 stars