If there is one thing that Spain undoubtedly offers it is its cultural and gastronomic diversity. In this case we are travelling to Cataluña to learn to make 'coca recapte' with smoky grilled vegetables - a traditional Spanish leavened flatbread with a Mediterranean twist.
Spanish 'Cocas' work great with any topping, both sweet and savoury. In this recipe we will top it with eggplant, roasted capsicum, and finely diced white and purple onions, and finish it off with black olives. If you add tomato it's even more delicious... and of course, you must drizzle it with a nice extra virgin olive oil and fresh ground pepper. Some spices are suggested but add them to your own taste. Personally, my little trick at the end is to garnish with lots of finely chopped fresh basil.
Preparation
Make the base:
Dissolve the fresh yeast in the lukewarm water
Add 1/3 of the flour, salt and dissolved yeast to a kneading machine (or a bowl large enough to knead the dough) and knead, slowly incorporating the rest of the flour as the ingredients combine.
Add a splash of olive oil to moisten the dough.
Knead the dough for at least 10 minutes to develop the gluten and give it a nice elasticity. When the dough is ready, roll into a ball and place in a greased bowl, sprinkle a bit more olive oil, and cover with plastic wrap. Allow to rise for at least an hour. While the dough rises, skip ahead and get the vegetables ready.
When the dough has risen, sprinkle the worktop with flour to prevent the dough sticking and begin to roll the dough thinly about the same size as your tray.
Line a tray with baking paper and place the dough on the tray, using a fork to gently poke holes all over the dough. Bake about 10 minutes at 180ºC.
Prepare the vegetable topping:
Slice the onions Julienne-style and sauté in a little oil over low heat until they are soft and fragrant. When they are almost ready, add a tablespoon of sugar to caramelise them slightly.
Cut the eggplant in half lengthwise and, in an oven preheated to 200ºC, roast the whole capsicums and the eggplant halves for about 40 minutes
When the capsicum and eggplant are ready, place them in a plastic bowl and allow them to "sweat" (to loosen the skin) until they cool. Peel them well and remove the seeds and the stem.
Cut the eggplants and the capsicum into long strips. Also slice the tomato and olives.
Combine the base and vegetables:
Top the almost baked flatbread with the vegetables. Dress with lots of fresh basil leaves, oregano, salt and pepper. Of course, being a Spanish dish, drizzle a bit of extra virgin olive oil.
Finish off the platter in the oven at 180ºC for another 10 minutes and serve. (Along with a fresh garden salad of course!)
Tips from the author
Coca recapte was like the blueprint for pizza; a base of dough and on top... whatever you want!
Though it is known as coca recapte, in Catalan we often call it "coca whatever is at hand", ha ha... Like many dishes from the Spanish cuisine, it has its roots in a time of scarcity, where they cooked with whatever they had, or what was given to you by your neighbours out of kindness. They are usually inexpensive to make, but very very healthy. And as we often point out, Spanish cuisine often has many similarities to other Mediterranean dishes (like pizza in Italy or Arabic pita bread).
As I prefer the flatbread nice and crisp, I recommend baking it on its own first so that it does not absorb the moisture from the vegetables, but if you prefer the dough a little chewy, just bake it already topped with your preferred topping.
Related salads chosen by others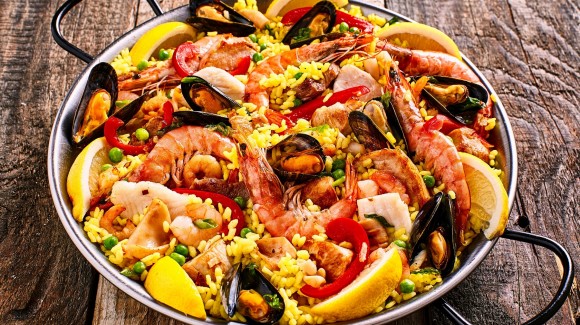 Spanish paella
Average 3 of 5 stars
Traditional Spanish greenback tomato salad
Average 3 of 5 stars
Quinoa salad with capsicum, tomato, cucumber and fresh mint
Average 3 of 5 stars