A salad lunch is scrumptious, but if you don't have much time, a tasty sandwich with healthy toppings is an easy alternative. Muhammara is a delicious sandwich spread that you can make yourself. It's packed with good fibre, healthy fats, and vegetables. You can make a batch on Sunday so that you have a delicious spread for work throughout the week or at home! It's also delicious as a dip for vegetables or as a sandwich spread with a slice of chicken breast or cheese and cucumber. Save stale bread for the breadcrumbs in this recipe.
Preparation
Use stale bread for the breadcrumbs. First remove the crusts, then run the slices in a food processor until you get crumbs. You can use either white or brown bread.
If you want to grill the peppers yourself, put 2 (sweet pointed) peppers in the oven (180 degrees) and bake them until the skins loosen. This should take about 15 minutes. Let cool for a while and then peel off the skins.
Place all the ingredients in the blender, blend into a nice smooth spread and your muhammara dip or sandwich spread is ready to be served.
Tips from the author
In case you're not a fan of a muhammara dip, then we also have a nice roasted pumpkin and chickpea hummus recipe for you!
Related salads chosen by others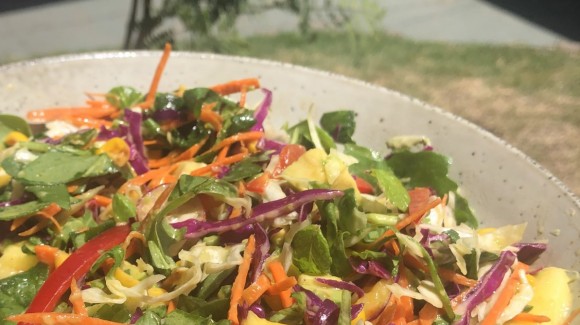 Healthy no mayo coleslaw
Average 3 of 5 stars
How to make cheesy vegetable lunchbox bread
Average 3 of 5 stars
Tomato grain salad
Average 3 of 5 stars