Who says coleslaw should be served with mayonnaise? This is my fresh take on an old family barbecue favourite that's lighter, zesty and really refreshing. The fresh spicy flavours and chilli soy dressing is inspired by South Asian cuisine.
Preparation
Finely shred about a cup of red and white cabbage, add to a large bowl and add a cup of grated carrot.
Combine the dressing ingredients in a bowl and whisk.
Pour the dressing over the cabbage and carrot and combine.
That's it, super easy!
Tips from the author
You can also add celery or green shallots to your coleslaw.
Photo by James Bertram
Related salads chosen by others
5 minute fresh tomato salad
Average 3 of 5 stars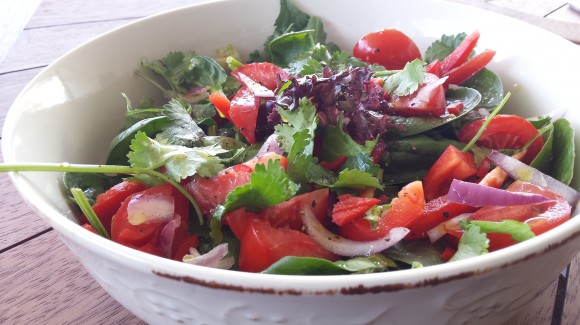 Garden salad with Vietnamese flavours
Average 3 of 5 stars
Korean spicy carrot salad
Average 3 of 5 stars