Fancy an easy night with a home-made pizza? Try this simple but delicious flatbread pizza recipe, with fresh tomatoes, tuna and red onion rings.
Preparation
Finely chop the garlic and cut the tomatoes into small chunks.
Heat the olive oil in a casserole and fry garlic for approx. 1 minute.
Add the chopped tomatoes and herbs and bring the sauce to the boil whilst stirring now and then. Cover the pan and leave the sauce to simmer for approx. 10 minutes.
In the meantime, preheat the oven to 200°C (hot air oven).
Lay the flatbread on an oven tray. Spread the fresh tomato sauce evenly over the flatbread. Sprinkle the 'pizzas' with the cheese, tuna, onion rings, bell pepper and olives and slide the tray into the oven.
Bake the pizzas for 8 to 10 minutes until the cheese is melted.
Serve immediately and sprinkle some rocket on top.
Related salads chosen by others
Spinach, mango & avocado salad with ginger dressing
Average 3 of 5 stars
Spinach salad with apple, mixed nuts, and feta
Average 3 of 5 stars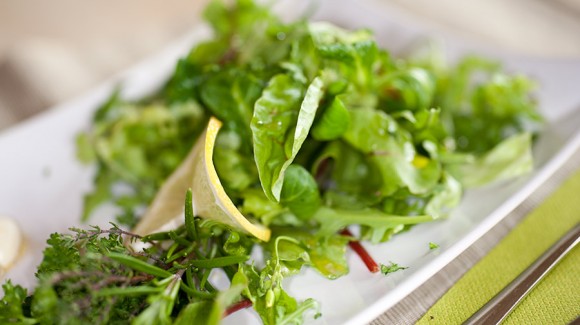 Green leaf salad with lemon dressing and fresh herbs
Average 3 of 5 stars