We are huge fans of Çilbir! Better known on TikTok as Turkish eggs. This Turkish dish is renowned for its delicious garlic yogurt, the hidden eggs, and the spicy butter topped with chilli flakes, and paprika. In this version, we have supplemented this delicious dish with extra vegetables: browned mushrooms and deliciously tender spinach. So, you have a deliciously healthy dish full of flavour prepared in no time!
Preparation
Finely chop or crush the garlic cloves. Quarter the chestnut mushrooms.

Heat a large frying pan or skillet over medium-high heat and add oil. Brown and soften the mushrooms. Then add the spinach a handful at a time and let it shrink. During the last minute, add half the garlic and fry further. Season with salt and pepper.
Mix the rest of the garlic with the Turkish yogurt and season with salt and pepper.
Poach the eggs or, if you find it easier, boil them until they have a soft yolk.
Melt the butter in a pan and add the paprika, chilli flakes and cumin. Stir well.
Divide the spinach and mushrooms between two plates. Place it over half of the plate. Divide the yogurt between the two other halves of the plates. Place two eggs on each plate, on top of the yoghurt.
Spread some of the spicy butter over the eggs. Optional: garnish the plates with fresh parsley and oregano, dukkha, and sumac. Top with the rest of the spicy butter.
Your Cilbir, or Turkish Eggs, are ready to be served!
Tips from the author
If you're a real egg lover, then also make sure to check out this Lyonnaise salad! This salad includes bacon, a poached egg, lettuce, and is dressed with a lemon, Dijon vinaigrette.

Related salads chosen by others
Butter board with a veggie spread
Average 3 of 5 stars
Salmon bowl with sweet and sour vegetables
Average 3 of 5 stars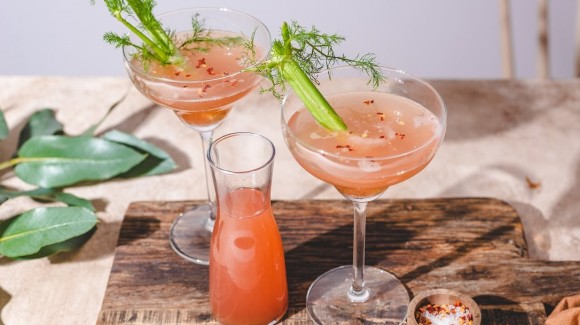 Best mocktail with fennel-rhubarb syrup
Average 3 of 5 stars