Butter board recipes are trending across the world! Spread soft butter on a large board and add the most delicious toppings. Time for a Love My Salad version with – you guessed it – a veggie spread!
Instead of butter, this recipe uses a deliciously creamy cauliflower spread. It is then topped with oven-roasted cherry tomatoes, sweet and sour red cabbage, and a dressing that you make from the marinade in which you bake the cherry tomatoes. Serve with homemade garlic toast and you have a delicious appetiser that everyone will love!
Preparation
Preheat the oven to 200 degrees and line a baking tray with baking paper.

Cut the cauliflower into small florets, place on the baking tray and mix them with 1 tablespoon of olive oil. Put the baking tray in the oven for 20 minutes. Do you want to speed things up a bit? Then cook the cauliflower florets in salted water until al dente.
Put the cherry tomatoes in a baking dish and mix them with two tablespoons of oil, the balsamic vinegar, 2 tablespoons of honey, and salt and pepper. Place the dish in the oven and bake it.
In the meantime, mix the red cabbage with the white wine vinegar, sugar, and a pinch of salt in a small bowl and set aside.
Remove the vegetables from the oven. Put 2/3 of the cauliflower in a tall measuring cup and add the lemon juice, creme fraiche and 2 tablespoons of honey. Use a hand blender to blend to a creamy puree.
Divide the veggie spread over a large board/platter. Top with the rest of the cauliflower and cherry tomatoes. Do not throw away the tomato juice! Drain the red cabbage slightly and spread the cabbage over the board too. Sprinkle a few teaspoons of the tomato juice over everything.
Garnish the dish with dill and oregano and season with salt and pepper.
Serve with garlic toast.
Tips from the author
Do you like this butter board recipe or are you a fan of a veggie spread? Then you'll probably also like these wraps with a sweet pointed pepper spread.
Related salads chosen by others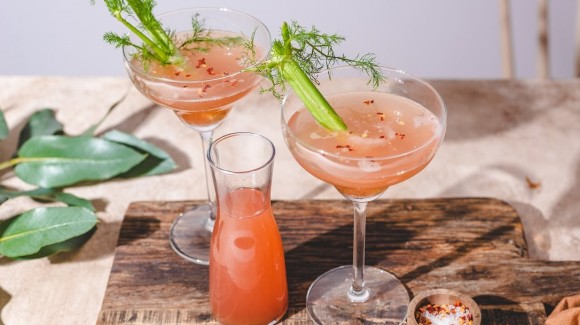 Best mocktail with fennel-rhubarb syrup
Average 3 of 5 stars
Salmon bowl with sweet and sour vegetables
Average 4 of 5 stars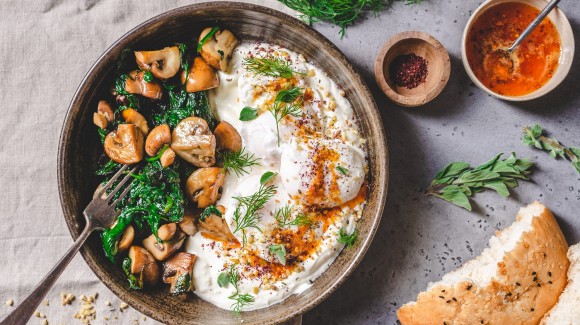 Çilbir with extra vegetables
Average 4 of 5 stars