This is our new favourite! And a big hit on TikTok too. Think: deliciously tasty salmon, sweet and sour vegetables, creamy avocado, and salty seaweed – all on one plate. For a full meal, add rice and cucumber. Made in no time (if you don't count the marinating time), this salmon bowl is guaranteed to be a party on your plate. Try it!
Preparation
Finely chop or crush the garlic cloves. Grate the ginger finely.

Dice the salmon and mix in a bowl with the garlic, soy sauce, ginger, lemon juice, and sweet chilli sauce. Marinate for at least 30 minutes.
Prepare the rice according to the instructions on the package.
Cut the red onion into thin rings. Cut the red cabbage into strips.
Heat the white wine vinegar in a saucepan and dissolve the sugar in it. Add a pinch of salt. Remove the saucepans from the heat and divide the contents between two bowls. In one bowl, mix in the red onion and in the other bowl the red cabbage. Leave to stand until ready to serve.
Slice the cucumber and avocados.
Heat a frying pan containing oil over medium-high heat. Brown the salmon, without the marinade. Then add the marinade and cook for another minute.
Cut the nori sheets into strips.
Divide the rice among four bowls and then the salmon, cucumbers, avocado, and sweet and sour vegetables.
Divide the nori sheet strips between the salmon bowls and garnish with sriracha mayonnaise.
Related salads chosen by others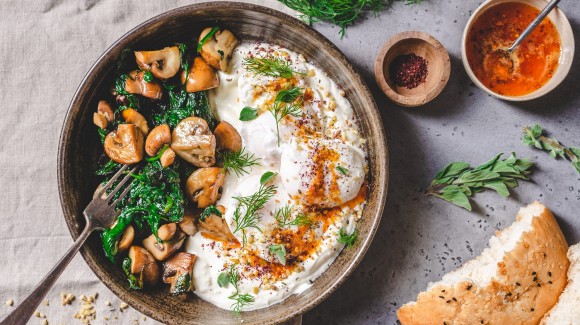 Çilbir with extra vegetables
Average 3 of 5 stars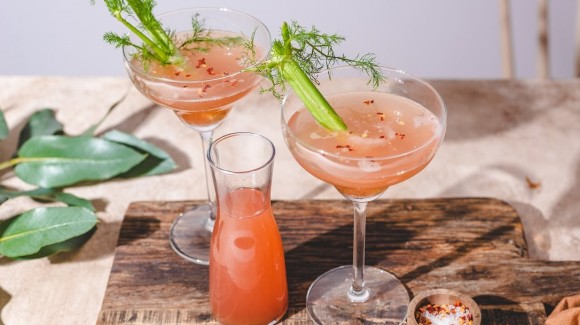 Best mocktail with fennel-rhubarb syrup
Average 3 of 5 stars
Butter board with a veggie spread
Average 3 of 5 stars