Italian cuisine is unique in being able to impress and comfort at the same time. This Italian Salanova salad brings together all the flavours and colours of the Mediterranean.
Preparation
1 Preheat the oven to 180ºC/350ºF/gas 4. Tear the focaccia into small chunks and divide them over ⅔ of a baking tray lined with greaseproof paper. Bake in the oven for 15 minutes. After 5 minutes, place the tomatoes on the remaining part of the tray. Leave in the oven until the bread is crunchy and the tomatoes are nicely roasted.
2 Peel the prawns and remove the innards (you can leave the end of the tail attached for decoration). Mix them with the garlic, olive oil and rosemary. Season with salt and pepper. Heat a grill pan and grill the prawns for 4 minutes or until pink.
3 Mix the extra virgin olive oil with the vinegar and season to taste with salt and pepper.
4 Remove half the core from the lettuce with the Salanova® cutter or cut half a circle around the core with a knife. Wash and dry the leaves and toss them in a large shallow bowl. Drizzle on the dressing and toss in the olives, mozzarella, focaccia croutons and prawns.
Related salads chosen by others
Delicious hearty summer salad with grilled corn and courgette
Average 3 of 5 stars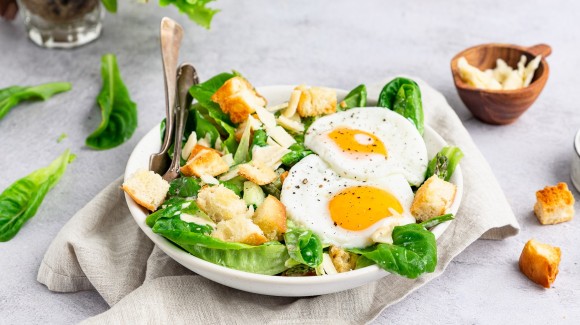 Caesar salad with a twist
Average 3 of 5 stars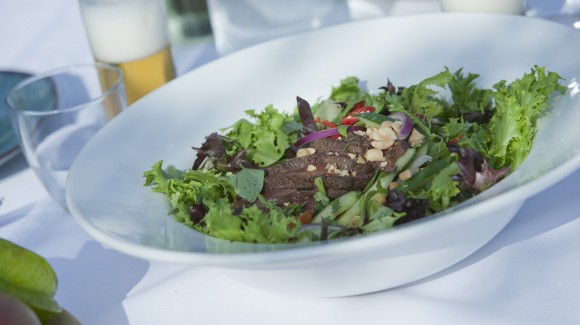 Thai beef salad with red and green Salanova® Crispy
Average 3 of 5 stars