A real classic, the good old Caesar salad. The smooth lettuce leaves, mild salty cheese, crunchy croutons combined with that typical Caesar dressing flavour… food heaven is calling you!
Salanova butter lettuce leaves are key to make this salad a winner dish. To add that extra touch to the classic Caesar salad, add some cucumber, asparagus tips and a sunny side up topping. The perfect mix of vegetables and proteins. You can use this recipe to make a lunch or a light dinner.
Preparation
Heat the oven to 180 degrees (356 degrees Fahrenheit) and cover a baking tray with parchment paper. Cut the ciabatta into 2 by 2 cm cubes. Mix the cubes with 2 tablespoons of olive oil and salt and pepper and then spread them on the baking tray. Bake the croutons for 10 – 15 minutes until golden brown and crispy.

In the meantime, remove the butter lettuce leaves from the head. Wash them and let them drain. Cut the cucumber lengthwise into quarters and then into slices. Using a cheese slicer, shave the pecorino into flakes.

Time to make the dressing by putting the dressing ingredients in a high bowl and then blending them with a hand blender. Taste and season with pepper.

Fry 4 eggs in a frying pan with olive oil. Leave the yolk as hard or soft as you want and prefer.

Mix the butter lettuce together with the cucumber, the asparagus tips and half of the croutons in a large bowl with half of the dressing. Sprinkle the remaining croutons over the salad and sprinkle with the cheese flakes. Serve with the fried eggs and the rest of the dressing as a side dish.
Related salads chosen by others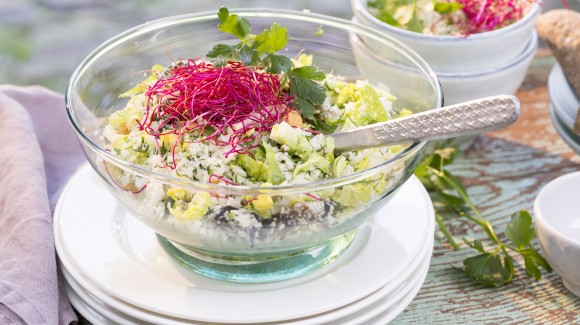 Colourful and crunchy cauliflower rice salad
Average 3 of 5 stars
Butterhead lettuce salad with strawberries, kale, almonds and goat cheese
Average 3 of 5 stars
Salad with cherry tomatoes and burrata
Average 3 of 5 stars