Salads are best when they're simple and with minimal preparation. This salad with sweetcorn and jalapeño is the perfect recipe when you have less preparation time, full of flavours from sweet to spicy with a delicious crunchy bite from the Salanova Crispy lettuce.
Preparation
Boil the corn for approx. 8 min. until cooked. Rinse under cold water and leave to cool.
In the meantime, slice the jalapeño and spring onion into thin rings.
Grate the green rind of the lime and then squeeze the lime to obtain the juice. Finely chop the garlic.
Mix the garlic together with the rind, juice, cheese and mayonnaise. Coarsely chop the coriander.
Arrange the lettuce leaves on a plate.
Place the sweetcorn upright in a large bowl and, using a sharp knife and working from top to bottom, remove the grains of corn.
Mix them along with the mayonnaise through the lettuce.
Sprinkle with the jalapeño, spring onion and coriander.
Tips from the author
Corn on the cob from the BBQ can be even tastier. Lightly brush the ears of corn with oil and grill them, turning regularly, for approx. 8 min. until cooked and golden yellow. This salad goes perfectly with a good piece of steak from the BBQ.
One cut is enough to separate the head of lettuce into lots of baby leaves, Salanova Crispy has a delicious crunch and is a great base for classic French bistro salads.
Related salads chosen by others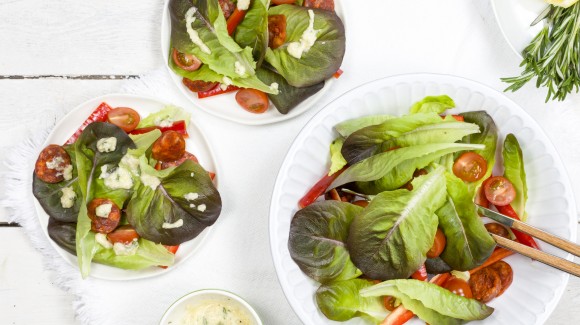 Mediterranean salad with chorizo
Average 3 of 5 stars
Lentil salad with roasted pepper, goat cheese and Salanova
Average 3 of 5 stars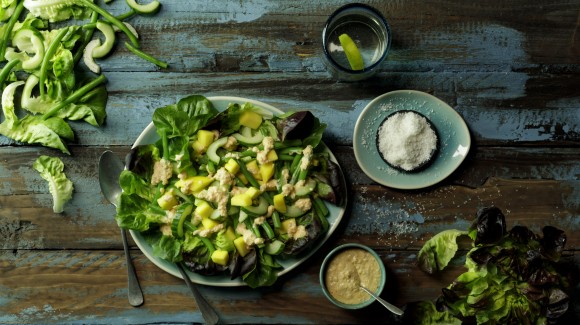 Exotic green salad with cucumber, beans and coconut dressing
Average 3 of 5 stars