A Japanese rice salad is the deconstructed version of a sushi roll, which serves up a whole lot of vegetables on a beautiful and colourful platter. If you like sushi, you will love this combination of Salanova lettuce, creamy avocado and fresh cucumber, topped with a zesty lime and wasabi dressing.
You can eat this dish with our without rice, and we've included the steps for rice at the bottom on the recipe. If you prefer a different type of meat, this sushi salad will also work wonderfully with salmon or tuna.
Preparation
Cut the nori into thin strips of 5mm x 3cm.
Halve the lettuce leaves lengthways and arrange them on a shallow plate or serving platter.
Halve the cucumber lengthways and use a teaspoon to scoop out the seeds. Cut the cucumber to make little moons and arrange them on the lettuce.
Grate the rind off the lime (set aside) and squeeze the juice from the lime.
Scoop the flesh from the avocado peel and slice flesh widthways. Splash lime juice on to the avocado (for flavour and to stop the avocado from browning) and arrange the avocado on the plate.
Mix the rind and the rest of the lime juice together with the wasabi, mayonnaise and 1 tbsp of water to make a dressing. Season to taste with salt and pepper. Pour over the salad.
Seperate the crab sticks into bite-sized pieces and arrange them on the salad.
Toss the salad and sprinkle with sesame seeds.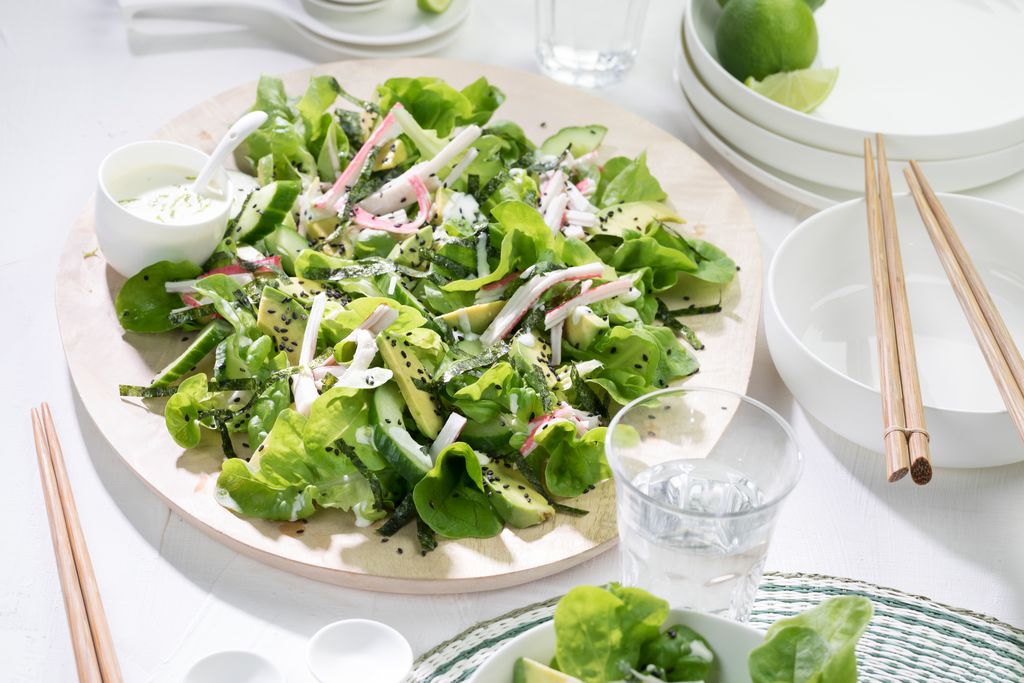 Tips from the author
Cook 200g of sushi rice according to the instructions on the packet. Dissolve 2 tsp sugar and 1 tsp salt in 3 tbsp of rice vinegar and drizzle over the warm rice.
Leave the rice to cool and then mix through the salad for a complete meal.
Related salads chosen by others
Roasted butternut pumpkin salad with butter lettuce, bacon and goat cheese
Average 3 of 5 stars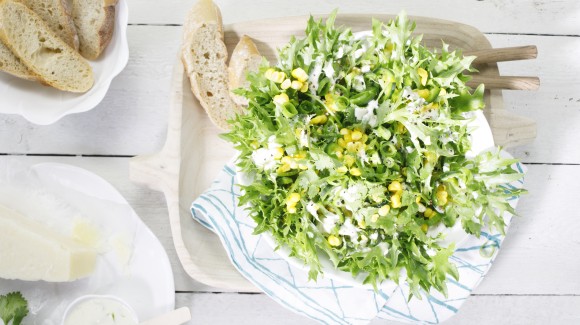 Crispy salad with sweetcorn, jalapeño and coriander
Average 3 of 5 stars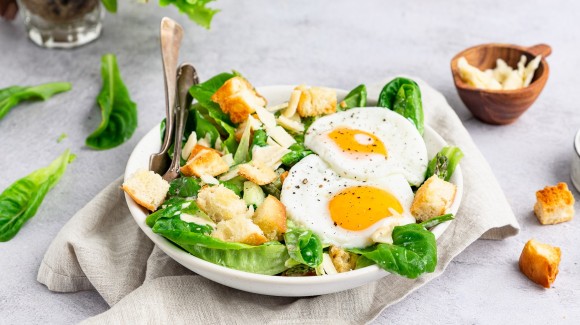 Caesar salad with a twist
Average 3 of 5 stars