Fancy a hearty summer salad? Then this delicious recipe is just the ticket! Using the barbecue gives the vegetables a lovely smoky flavour. Inclement weather? Then prepare the vegetables inside on the grill.
As a base, I used butter lettuce, the beautiful Salanova, and supplemented it with coloured tomatoes and grilled vegetables. The colours of the various fresh ingredients complement each other and topping it with fresh edible flowers lends a gorgeous festive look to your table.
The goat cheese topping, the roasted nuts, and a tasty vinaigrette complete it!
Preparation
Carefully wash and dry the lettuce leaves.
Halve the cocktail tomatoes after washing.
Shuck (remove the leaves and the silks) the corn cobs.
Then brush with olive oil and grill until brown - about 10 minutes.
Turn the cobs frequently while grilling. After cooking, sprinkle the corn on the cob with a little salt. When the cobs have cooled, remove some corn kernels to use later as a garnish.
Meanwhile, slice the two courgettes. Try to cut them on an angle so that you get larger slices. Grill the courgette slices on a high heat for about 2 minutes until golden brown. Don't forget to turn halfway.
Halve the 2 avocados and carefully remove the pit and shell. To prevent discolouring of the avocado, cover it with some lemon juice.
The basis for the salad is now ready. Use a large salad bowl. Arrange the salad leaves first. Then add the grilled vegetables, avocado and tomatoes.
Crumble the goat cheese over the salad, and sprinkle the corn kernels, and the roasted nuts over the top. Finally, cut the spring onion into small rings and chop the parsley finely. Grind some freshly-ground pepper over the salad.
To give the salad a festive touch, I like to use edible flowers. I used the beautiful flowers of the East Indian cherry and even a few of the leaves.
I put the vinaigrette in a pretty bottle on the table so people can add it to taste. This also means that the lettuce stays fresh as long as possible.
Enjoy your meal!
Tips from the author
When making this salad, I cut the corn on the cob into small slices. Sometimes this is a success and other times it doesn't go so smoothly. You might prefer to serve the corn on the cob separately. If you do, use some corn kernels to garnish this salad.
Related salads chosen by others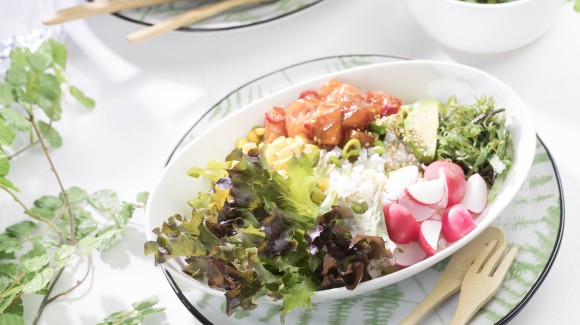 Poké bowl with salmon and avocado
Average 3 of 5 stars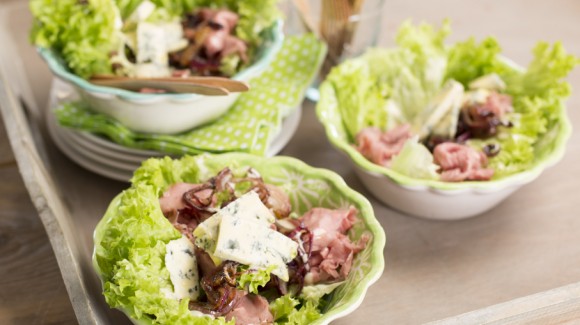 Crispy salad with roast beef and Spanish blue cheese
Average 3 of 5 stars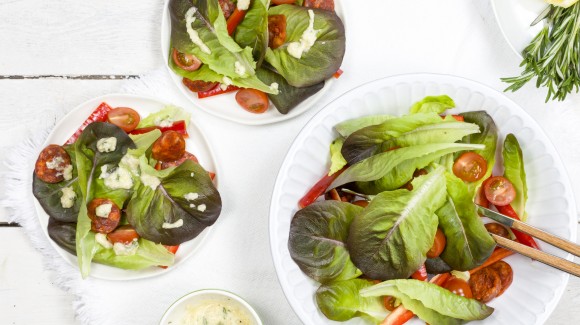 Mediterranean salad with chorizo
Average 3 of 5 stars